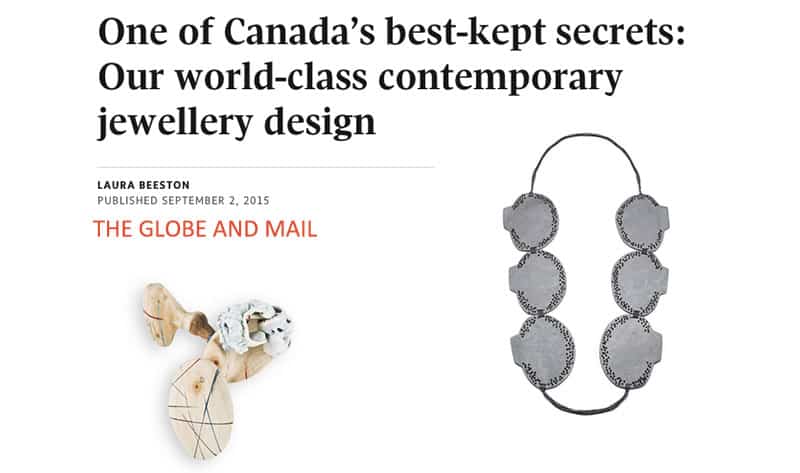 One of Canada's best-kept secrets: Our world-class contemporary jewellery design
One of Canada's best-kept secrets: Our world-class contemporary jewellery design
BY LAURA BEESTON
PUBLISHED SEPTEMBER 2, 2015
THE GLOBE AND MAIL
World-class contemporary jewellery design might be one of Canada's best-kept secrets. Internationally recognized for work that executes elevated craftsmanship and boasting some of the best technical schools on the planet, our country is on the cutting edge of wearable works of art. Yet for whatever reason, the profile of our talent has yet to gain recognition.
"Our artists have been creating in secret in a lot of ways," says Vanessa Laurin, who produces the Great White North Exhibition – a juried, annual competition dedicated to emerging Canadian jewellers that was founded in 2003. "They quietly make and sell and talk about their work in industry magazines, but really don't get the attention they deserve or that they would get if they were in the fine arts world."
Not only is Canada incredibly resource rich, says Laurin, but we have an abundance of talented tradespeople from all over the world who call this country home: "the best hand-engravers, the best stone setters, and a huge number of people who are highly-trained in very specific skillsets."
It's surprising to her there isn't more of a crossover for this métier with Canada's art and fashion scenes, as jewellery is an intrinsic part of both worlds. "Whether you look at these works as a miniature sculpture or as a statement piece, it is art that is worn on the body," she says. "But Canadians haven't caught on yet."
The high Canadian calibre is something that Noel Guyomarc'h – who runs his eponymous contemporary jewellery gallery in Montreal – feels compelled to promote at Chicago's Sculpture Objects Functional Art and Design exhibition each year. "People are used to looking at jewellery as jewellery," says Guyomarc'h. "But these are truly works of art, [by virtue of] what we feel through the work, the execution of technical skills, the strength in the design and concept."
While Guyomarc'h agrees our artists are better known beyond our borders, he is heartened by a growing interest at home. Since he opened his gallery doors in 1996 (and especially in the last five years), there has been a growing interest in "Made-in-Canada" wares, more specialized boutiques, jewellery collectives, workshops and juried competitions for designers to showcase and develop their talent.
Experimenting with alternative materials, innovating in 3-D printing and support for an outrageous, anything-goes attitude not bound by fabled jewellery design traditions like France or Switzerland, Canada's work is a distinct blend between fine and art jewellery.
Brooch the subject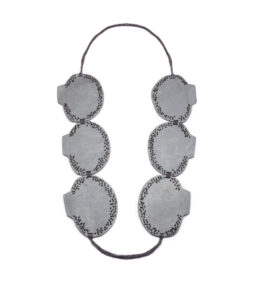 A harmony of raw material, wood and semi-precious stones characterize the work by Quebec-based artist Gabrielle Desmarais, and her brooches have been purchased by Musée des Beaux-Arts de Montréal to add to their permanent collection. Desmarais will be represented by Noel Guyomarc'h once again this year at SOFA Chicago.
More than fragments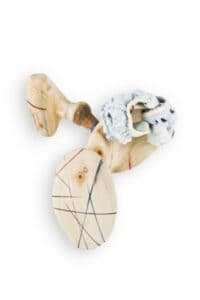 The 2014 Prix Émergence en métiers d'art winner in Quebec, Anne-Marie Rébillard's work is characterized by the use of non-traditional materials and found objects. Giving life to fragments and shreds of nature, the abstract, textured shapes are made to look like bone.