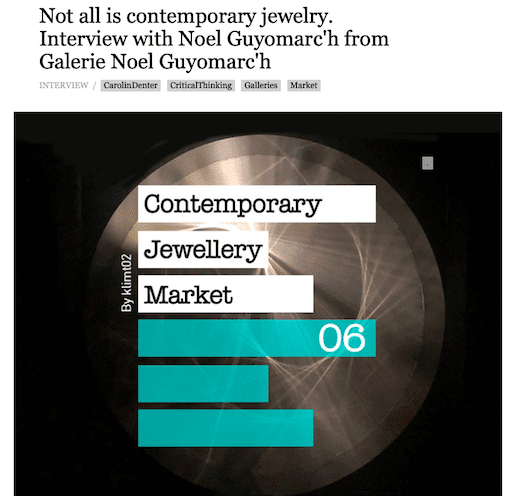 Entrevue Noel Guyomarch pour Klimt02
Entrevue avec Carolin Denter pour Klimt02, Platforme web pour  le bijou contemporain international                                                 Not all is contemporary jewelry. Interview with Noel Guyomarc'h from Galerie Noel Guyomarc'h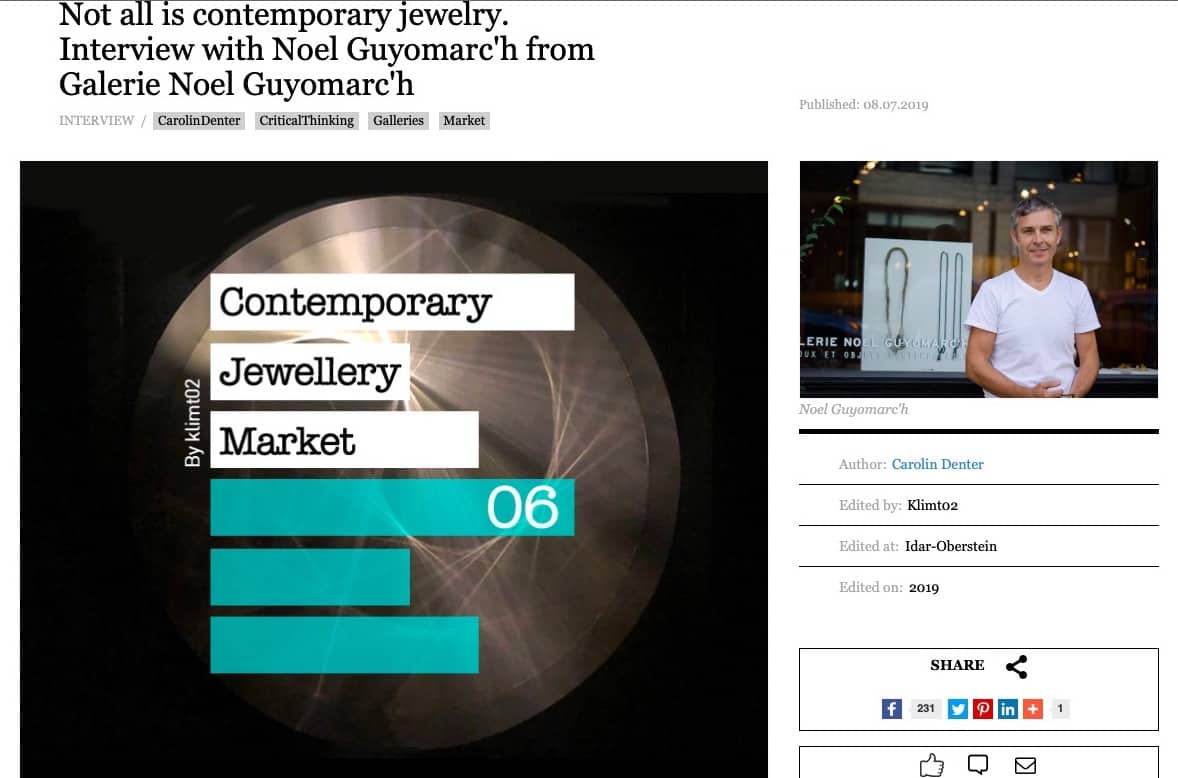 The series by Klimt02 offers space for questions, ideas, and discussions about galleries, artists and the current jewellery market. This is the sixth interview in a series of interviews with gallerists and art dealers from around the world.
We continue with Galerie Noel Guyomarc'h. The gallery promotes international contemporary jewellery. Through diverse exhibitions the gallery encourages visitors to cast a new eye on jewellery. Much more than simple decorative objects, the jewellery presented is indeed the result of an exploration of both form and content. As in all authentic art, a piece of jewellery can therefore move, seduce, disturb, or provoke reflection.
Many galleries curate their artists with specific vision in mind. Please describe your criteria.
Contemporary jewelry is the result of a questioning, of a vision, of a reflection of an artist about the world, her/his environment, about jewelry itself, no matter the materials and techniques used, exploring new shapes, new forms and aesthetic. To find a beautiful new idea, a strong concept, that the work releases the artistic intention of the artist, is important to me. The work must stimulate my interest, my curiosity and my sensitivity. Of course, the technical aspect, the mastery of materials whatever they are is as well important. I have to find all these criteria to work with the artists.
Please explain us a bit more about your profession as a gallerist, tell us more about Galerie Noel Guyomarc'h and the Canadian contemporaryjewellery market: what major successes and challenges have you had this year?
I opened the gallery in 1996. A long journey… Every year, I organize about 6 exhibitions, solo and collective exhibitions. Among them, I occasionally invite a curator for a specific exhibition. Last year, I invited Katie Scott from Gallery Funaki to set an exhibition with Australian artists. A great event!  Ramon Puig Cuyàs, Jamie Bennett, Luzia Vogt among others have been guest curators over the years for my gallery. I write articles, publish catalogues organize traveling exhibitions. I am acting as appraiser for museums in Canada. I am regularly invited to give talks and critics on students work. All these activities are added on the work of running a gallery. On top of these exhibitions in 2019, the gallery takes part in art fairs (Art Palm Beach, SOFA Chicago) or special events on jewelry (SNAG conference and New York City Jewelry Week). And I am very glad to have been invited this fall to curate an exhibition in an American museum, The Ross Art Museum and to be part of contemporary art fair in Quebec, which will present jewelry for the first time.
Participating in art fairs plays an important role for the gallery. Over the years, we established contact with collectors and museum curators and we need to maintain a good relationship with them. They are so solicitated that it is always nice to meet them in person. We also introduce contemporary jewelry to a new audience. The Canadian market is pretty small, so we have no choice.
My job as a gallery owner is also to promote the artists I am working with on an everyday level. Education, share information on the work and on the artists, explain what contemporary jewelry represents. Running a gallery and participating in art fairs are very expensive, the basic fees always increase. We have built a clientele over the years. A few among my clientele are buying less than before for personal reasons or considering that their collection doesn't need more additional pieces. To pursue our activities, we need to bring new potential clientele.
You are promoting contemporary jewellery and your artists already since more than 23 years! Please tell us more about your personal vision.
At the beginning, I had in mind to promote only Canadian artists even if I was aware about what was happening on the international level. My project was to have international exhibitions once a year. In collaboration with some invited artists to these shows, I started to work both with Canadian and international. The language, the aesthetic, the ideas, the concepts were different and very motivating to me. Gathering these artists together was representing what was happening in the field. I am working with some artists for over 20 years. A long collaboration of confidence and trust in their work. For more details, read my answer in the first question.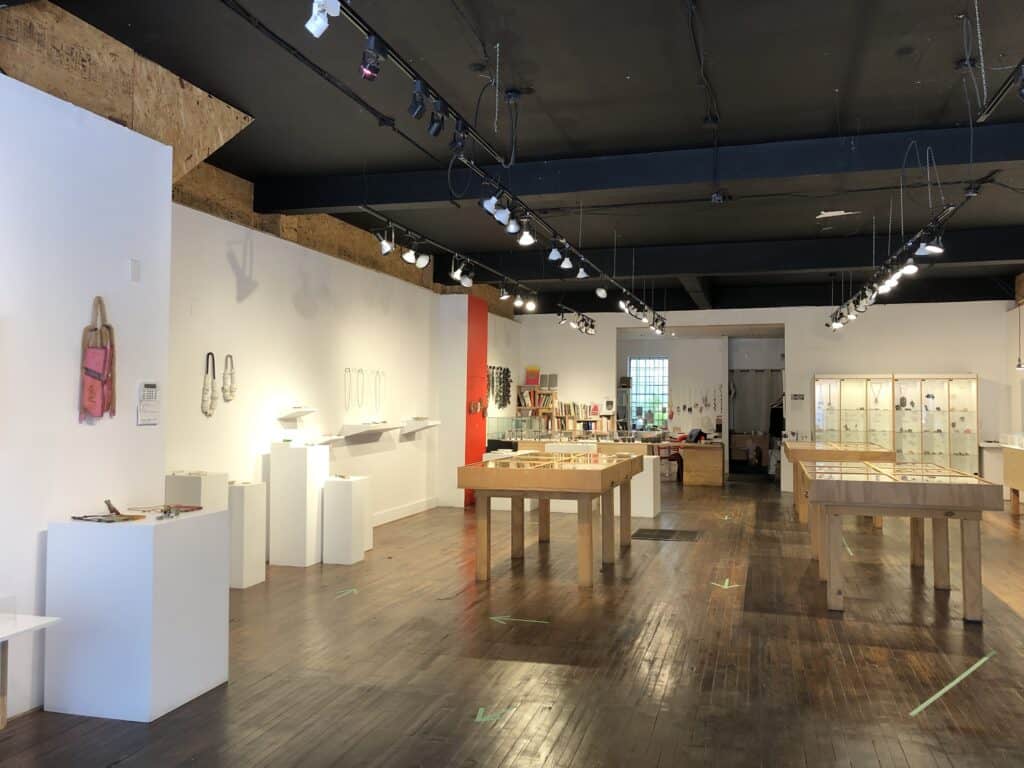 How do you feel about connection and interaction with the jewellery market, or lets call it jewellery bubble, outside of your own country? Are there enough possibilities of exchange (ideas, projects, knowledge)? What efforts do you have connecting with others around the world?
Last year, I invited Katie Scott from Gallery Funaki to curate an exhibition with Australian artists. The collaboration and the exchanges were very easy, nice and professional. Such projects must happen more often, it will benefit at first the artists by giving them new visibility and possibilities. I am sure Katie and I got some benefits from this exchange. I even met Australian people in visit in Montreal, who highly appreciated the exhibition but never heard about Australian contemporary jewelry or Gallery Funaki.
This spring, I am presenting a Korean jewellery exhibition. I invited Miwha Oh, a jewellery artist who owns a gallery in Seoul, to be part of this exhibition for her work I appreciate. The market is small, so if such collaborations could increase interest in contemporary jewellery, why not! Some collaborations took place over the years through traveling exhibitions in US galleries, most of time with great communications and agreements. In Europe, two years ago, Grego Garcia Tebar, from Amaranto Joies Gallery in Barcelona hosts my exhibition Espace Habité /Inhabited Space, new perspectives of contemporary jewelry in Quebec, before traveling to Parcours Bijoux in Paris. So yes, I am willing to collaborate with other galleries, always interesting to see the vision of other gallery owners. It is important to me as my gallery is taking part in fairs, mainly in the US, and some of my artists are already represented by American galleries, to maintain a good relation with them by asking their consent.
Next fall, the gallery will be part of a contemporary art fair in St-Lambert, a small city close to Montreal, and then an exhibition in an American museum. I do appreciate such collaborations as we are bringing contemporary jewelry to a new public. At the same time, there is not many actors, we need more galleries and more museums to collaborate with.
Talking about international contacts and boundaries: A gallery typically has a monthly exhibition, that is promoted with print advertisements, direct phone calls to collectors and the press, as well as hosting the art opening. Galleries have become like a "brand" that represents a particular point of view. We would like to know more about your marketing strategies and how you are able to share your vision with others.
As mentioned above, participating in art fair is important. But we have to be selective as some of them are not really good or the audience is not the right one for contemporary jewelry. The exhibitions at the gallery are quite diverse, and most of the time challenges the clientele. I never think to please the clientele. I am inviting artists for exhibitions only on artistic reasons. The most important is to think about contemporary jewelry, and to have new challenges for me and my clientele. I am passionate and enthusiast, it becomes wonderful when it's the time of sharing and explaining. On another marketing level, I am quite active on social medias. Time consuming though. And the website has to be always updated, very demanding too. They are part of our business now. The location is important as well. I moved in 2012 in a big place with a lot of traffic on the street. For sure, not all people who are coming in will become new buyers but time to time we succeed to convince about contemporary jewelry.
Besides selling pieces, how do you see the role of the gallerist in the artist-gallery relationship? What do you think is missing at the moment and what do you think should cease to exist if any?
Most of the time, I maintain good relationship with the artists. It can become friendly too. It has to be easy, it's a collaboration. With no doubt, they have expectations from the gallery owners. We try to do our best to sell their work, but it can take time. As mentioned earlier, to run a gallery, to participate in art fairs and to organize exhibitions are very costly and time consuming. As all galleries, we are doing our best. We are giving much visibility and potential opportunities to sale their work. That's why it is important to represent the right number of artists to promote them well.
We also are building their curriculum. We give them a huge visibility to our clientele, to other gallery owners, to curators we know, who may at one point invite them for exhibitions. It happens many times at the gallery or through my gallery website. Since the gallery took part at SOFA, few pieces have been sold to museums. It's a collaboration. We are supportive of their art work, they also have to be supportive of their representative galleries. We are conscious the market is growing slowly, but if galleries and their point of view disappear, it will be sad for all of us.
Thinking about contemporary jewellery especially, how do you think it is necessary to "educate" the audience, customers, collectors (…) and so on?
For ten years, I acted as president on the board of the École de joaillerie de Montréal. Education is very important to me. And to educate the jewellers is part of it as well. And overall I think we still have to educate. Outside the community, galleries have no choice.
Inside the bubble, it exists an amalgam about contemporary jewelry. Not all is contemporary jewelry. We have to be clear to be able to educate new audience, make distinctions and to use the right vocabulary.
By educating, we also start or pursue our collaborations with other contemporary art fields.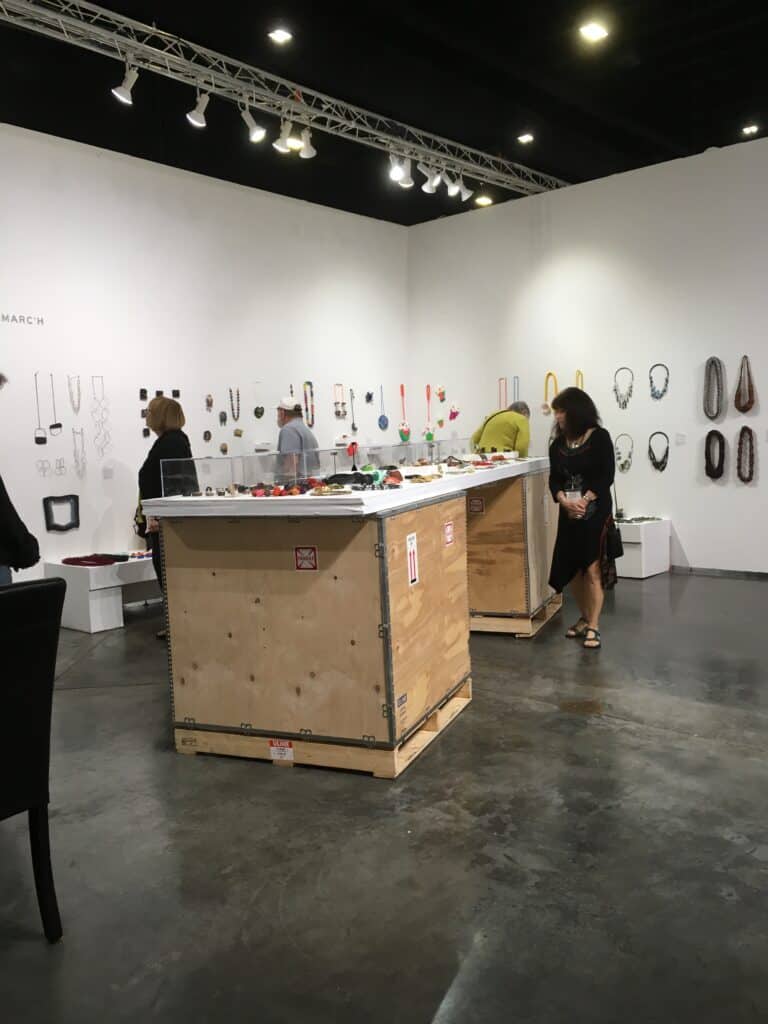 Contemporary jewellery, except for a few auctions held worldwide, has very little to no resale or second hand market. Why do you think this is the case, and how would you imagining a "resale" of contemporary jewellery could be possible?
The field is still young, I guess one of the reasons. I do not want to be boring, but education is still central pivot into our field. We are building our history. Museums exhibitions, publications and conferences are helping this educational effort. We have to learn what has been done to grow. Some ideas and concepts have been explored in many ways over the past 50 years. The aesthetic, the material, the form or the shape are different, but we can see relations and do references. We also have to share all the information with collectors and clientele to improve their collection.
Quite often, the Montreal Fine Arts Museum requests my service to appraise modern and contemporary jewelry. Recently I had to evaluation some pieces created by well-known artists from the 80's, and some of them are still active. I was able to do all the researches because their work has been well documented. Personally, I would have love to keep some of the pieces for my own collection, as they were important in the artists journey and for their influence and relevance today.
Maybe contemporary jewelry auctions need to be in art auctions to initiate new audience.
Talking about values and stability: Leaving the aspect of "passion" or "beauty" aside, how do you see the stability of the value of contemporary jewellery pieces, especially from non-precious metals?
Even if materials still justified prices, we can now see that artistic value is a consideration. Artists are using materials for specific artistic reasons, not for their intrinsic value or in rebellion to precious jewelry. Many materials request a lot of researches and experimentation to achieve their use. This art work is contemporary jewelry, so we have to consider the same way than precious pieces.
What are your thoughts on improving, strengthen and expand the contemporary jewellerymarket, based on your professional experience?
From my point of view, we need more galleries to promote contemporary jewelry. More professional events with curators, writers, art historian…, not only the jewelry market. We need more theorists and art historian specialized on contemporary jewelry, then organize exhibitions in museums.
About the Interviewee
Noel Guyomarc'h has been active in the field of art jewellery for over 25 years. After working as an assistant in a jewellery gallery and having studied jewellery design and creation at the Saidye Bronfman Centre for the Arts, he opened his own gallery in 1996, acting as curator, representative, promoter and consultant. He has organized over 90 individual and group exhibitions, both at the national and international level. Invited regularly to sit on juries and to lecture, Mr. Guyomarc'h is also an evaluator for the Montreal Museum of Fine Arts and he was the president on the board of the École de joaillerie de Montréal (2004-2011). He also gives workshops in jewellery design and belongs to a number of national and international associations. His activities in the field have been the subject of numerous articles.
About the author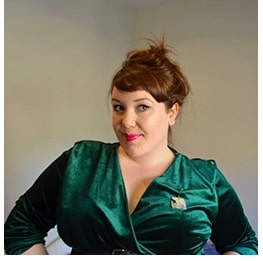 Carolin Denter completed her vocational training as Goldsmith at Master School for Craftsmen in Kaiserslautern in 2013. In 2017 she graduated with a Bachelor of Fine Arts in Gemstone and Jewellery at University of Applied Science Trier, Campus Idar-Oberstein. After her graduation, she started working as Marketing- and Designmanagement Assistance at Campus Idar-Oberstein at the Gemstone and Jewellery Departement. Since 2015 she is working at Klimt02.net, an online platform for the communication of contemporary jewellery. Trough articles and interviews she is developing critical subjects in the field of contemporary jewellery. Carolin is constantly working on her own jewellery, which has been exhibited among Europe.