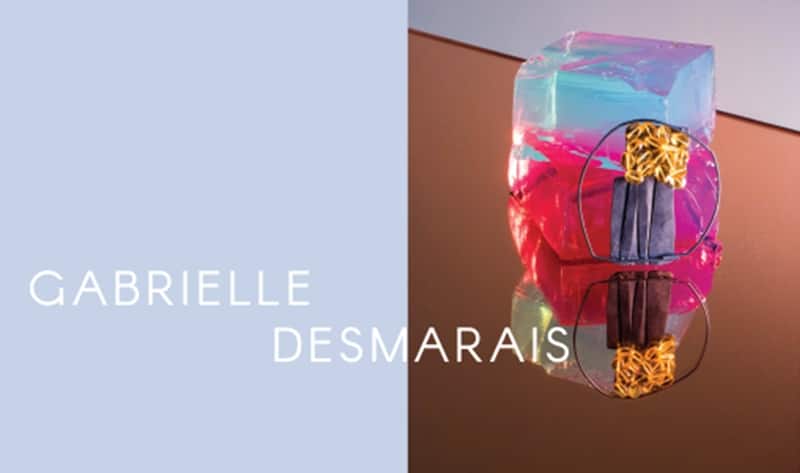 Gabrielle Desmarais – Les Espaces Satellites
Les Espaces-Satellites
Gabrielle Desmarais
EXHIBITION 
June 10 – July 10, 2021
Opening reception by appointement only  Thursday, June 10, 2021
To see her new collection : Les Espaces Satellites
Montreal, May 30, 2021 – From June 10th to July 10th, Quebec artist Gabrielle Desmarais will present her first solo exhibition, Les Espaces-Satellites, at Galerie Noel Guyomarc'h. For the occasion, the gallery will be transformed into an immersive landscape in which over forty works will be displayed, all of which were created as maquettes of familiar or imagined places. In a metaphorical way, the artist proposes a series of objects-souvenirs representing these places, which only exist in the floating space of our mind once we have left them.
The exhibition Les Espaces-Satellites will include some of Gabrielle Desmarais' works created over the past few years as well as over 20 brand new brooches which have never been shown before. At the heart of an installation that invites viewers to wander along the walls as well as the floor, Gabrielle Desmarais' jewellery will be presented as a series of miniature maquettes derived from interpretations of memories of various places, some of which are familiar and affectionate, others encountered fleetingly, and some made up entirely. Emphasizing the contrasts suggested by solids and voids, flat or textured surfaces and accumulated material, Gabrielle Desmarais' jewellery has a graphic quality that reveals her process, in which drawing plays an important role. Each piece of jewellery is impregnated with the artist's gestures, in which she pushes the limits of metal by overheating, bending and hammering it. Thus, by making use of worn and battered surfaces and forms, the artist challenges our perception of time to such an extent that each object could just as easily be a piece of debris, a relic of the past or a contemporary work of art.
Since graduating from the École de joaillerie de Montréal in 2010, Gabrielle Desmarais has always managed to distinguish herself through her unique vision, her well-developed sense of artistic expression and her excellent mastery of design. While still a student, she already began to broaden her horizons by taking part in various courses, including a workshop led by Willemijn de Greef in 2009. In 2010, upon completing her studies, she joined Noel Guyomarc'h's Labo, an exploratory workshop aimed at decompartmentalizing the practice of jewellery and encouraging formal, material and conceptual development and exploration. Then, in 2011, she trained at the prestigious Alchimia School in Italy, where she learned about various alternative surface treatment techniques. Her work has been presented in several national and international exhibitions and events, including Sieraad (Amsterdam), Joya (Barcelona), Salon Révélations (Paris) and SOFA (Chicago). Her name and works have also been featured in various publications both in Quebec and abroad, and some of her creations are now part of the collections of the Montreal Museum of Fine Arts and the Musée des métiers d'art du Québec. In addition to her artistic practice, Gabrielle Desmarais is regularly invited to teach at the École de joaillerie de Montréal, where she shares the results of her technical explorations with the aim of democratizing the multiple possibilities offered by contemporary jewellery.
An opening reception will be held at the gallery on June 10th, from 4-8 pm. The exhibition will continue until July 10th.
-30-
For more information:
Noel Guyomarc'h
Directeur, Galerie Noel Guyomarc'h
T. 514-840-9362 I  E. [email protected]