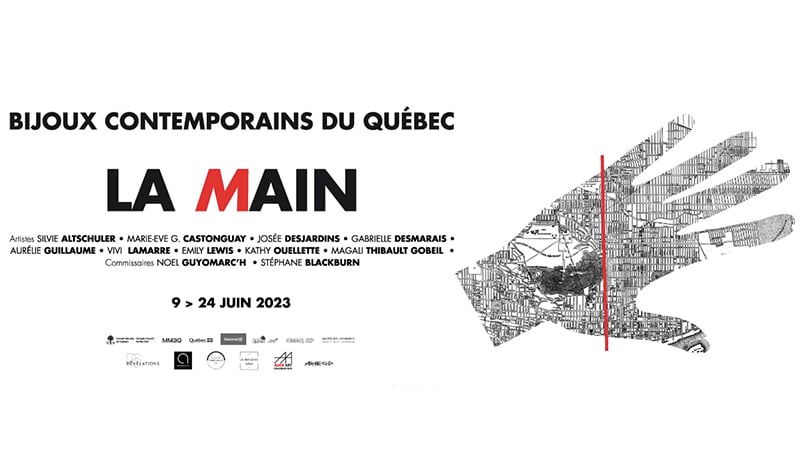 Exhibition La Main – la Galerie La Joaillerie par Mazlo
From June 9, 2023, as part of the OFF program of Révélations Grand Palais, the LA Joaillerie par Mazlo Gallery and the Robert Mazlo endowment Fund for art and contemporary art jewelry will be putting on a Quebec exhibition with Galerie Noel Guyomarc'h and 9 of its artists. An exhibition curated by Noel Guyomarc'h and Stéphane Blackburn.  The exhibition continues until June 24, 2023.
" A whimsical play on words, between the artist's hand and <La Main>, the name give to the boulevard St-Laurent on which the Noel Guyomarc'h Gallery is based. Short for the Main Street in English, this street that divides the city of Montreal is a meeting place for the French-speaking, English-speaking and immigrant communities. Dynami and lively, it's home to unusual boutiques, cosmopolitan restaurants, bars and nightclubs, as well as numerous artists' studios and art galleries.
The intriguing title highlights the heterogeneous and surprising nature of this exhibition. The wire range of works on display reveals the effervescence of contemporary jewelry in Quebec. To illustrate this point, we have chosen original and unique works that stand out for their materiality, the quality of execution and the subjects they address." Noel Guyomarc'h and Stéphane Blackburn, curators of the exhibition.
The guest artists are Silvie Altschuler, Marie-Ève G. Castonguay, Josée Desjardins, Gabrielle Desmarais, Aurélie Guillaume, Vivi Lamarre, Emily Lewis, Kathy Ouellette and Magali Thibault Gobeil.
To see the selected work for the exhibition.: La Joaillerie par Mazlo
Some images of the opening reception and installations.