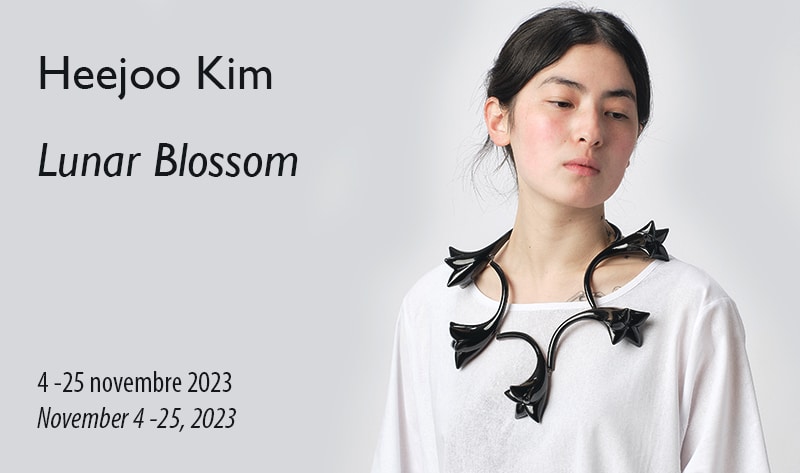 Heejoo Kim – Lunar Blossom
Exhibition 
November 4 – 25, 2023
Opening reception in the presence of the artist, Saturday, November 4, 1 – 5 pm
To discover the new collection by Heejoo Kim : Lunar Blossom 
Montreal, October 27, 2023 –
From November 4 to 25, Korean artist Heejoo Kim presents her new collection, Lunar Blossom at Galerie Noel Guyomarc'h. Favouring the electroforming technique to create her jewellery, the artist works this time with Ottchil, a natural black lacquer traditional to Korea, in contrast to her previous series in brightly colored enamels.
Lunar Blossom, Heejoo Kim's new body of work, is part of a larger project, The Incubation Odyssey. Initiated with the series The Fifth Season in 2011, followed by UniverShell in 2020, Lunar Blossom is the third collection in this odyssey.
Using electroforming technique, Heejoo Kim finds in this technique an echo to her artistic sensitivity – a way to convey the energy and beauty of life and nature. Through this process of successive thin layers of copper on a previously chosen or created form, immersed in a vat filled with blue water, everything comes to life, built with patience and care. Under the creator's attentive and sincere eye, the elements that will make up her work take form.
For this collection, enamel is replaced by Ottchil, a traditional Korean natural lacquer. Kim applies numerous layers of black lacquer to each element composing her future creations. By combining these two techniques, she succeeds in offering a deep, magical beauty, like a plunge into a dreamlike universe.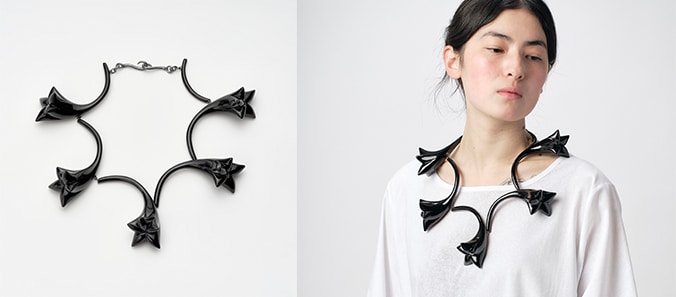 'A heavy but thin silence surrounds my whole body on the moon. I have no idea where I'm coming from or where I'm going. The despair of the deep darkness is about to rise little by little
I can see the pale blue planet far away. And think I can go there right away. Do I want to go?
I ask myself. Am I afraid? Where will this situation lead me to?
I'm not afraid. Rather, I feel comfortable. I look around. There is darkness and light, joy and sadness, heaviness, and lightness. It reminds me of many short stories. A faint scent of flowers and a gentle breeze that tickles the tip of my nose. A fresh green. Slowly, I am getting used to it and warming up from one side of my heart. It's familiar and comfortable. I'm here and part of this. I belong here.
The familiar moon seems to say hello to me. The cool beauty of a light purple. Bright metallicness that led me to the dream world. I imagine. My moon. My dream moon. I have a lot of fantasies that this place I'm standing on allowed me. I follow the scenery. Familiar and unfamiliar landscapes stimulate my fantasies. I dream.
And soon I feel comfortable. My fantasy protects me by becoming my world.'
Heejoo Kim, 2023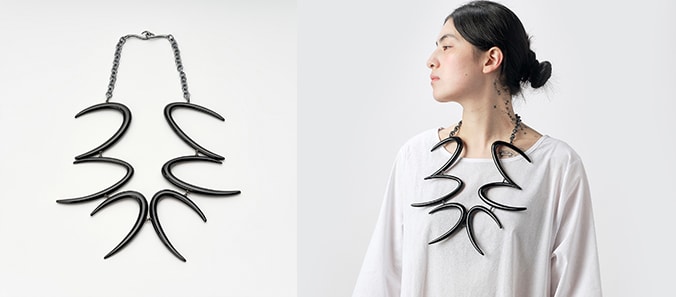 Born in Seoul, South Korea in 1983, Heejoo Kim received her bachelor's degree in fine arts from Kookmin University in 2007. Then, after two years at Pforzheim University in Germany, she returned to Seoul to Kookmin University for a master's degree in fine arts which she obtained in 2011, followed by a doctorate completed in 2018. Rewarded by numerous international prizes, Heejoo Kim has participated in an impressive number of exhibitions in Europe, Asia, and North America and several of her works can be found in museum and private collections. She has been represented by the gallery since 2015. Lunar Blossom is her first solo exhibition in North America.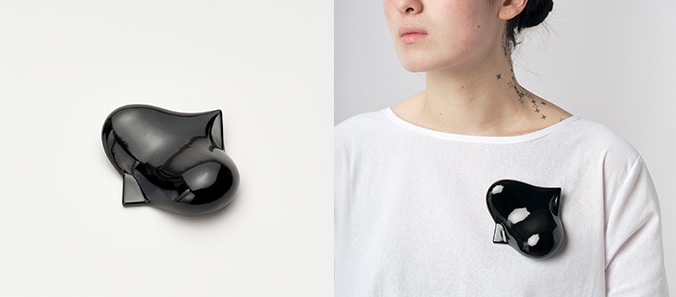 An opening reception will take place in the presence of Heejoo Kim on Saturday, November 4 from 1 to 5pm.  The exhibition continues until November 25.
For further information :
Noel Guyomarc'h [email protected]
-30 –