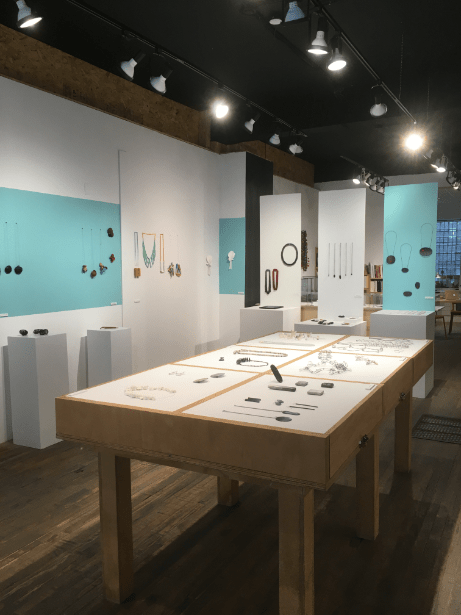 Contemporary Jewelry
Many artists have chosen jewelry as a means of personal expression and communication. The artist, questioning about his environment and his time, therefore creates works of art, which by being worn, amplify their significance. A particular relationship is established between the person who wears it, the piece itself and the viewer. Confronting our perceptual traditions and distinguishing itself from commercial, craft and sacred jewellery, these creations find their place at the forefront of what will become accepted as tomorrow's everyday norm.
Through diverse collections and exhibitions, Galerie Noel Guyomarc'h encourages visitors to cast a new eye on jewellery. Much more than simple decorative objects, the jewellery presented is indeed the result of an exploration of both form and content. As in all authentic art, pieces of jewellery can therefore move, seduce, disturb, or provoke reflection. Audacious and engaged, the creations of those artists testify to the diversity of discourse and ideas, which characterises the art of our time.
About Noel Guyomarc'h
Noel Guyomarc'h has been active in the field of art jewellery for almost 30 years. After working as an assistant in a jewellery gallery and having studied jewellery design and creation at the Saidye Bronfman Centre for the Arts, he opened his own gallery in 1996, acting as curator, representative, promoter and consultant. He has organized over 120 individual and group exhibitions, both at the national and international level. Invited regularly to sit on juries and to lecture, Mr. Guyomarc'h is also an evaluator for the Montreal Museum of Fine Arts and he was the president on the board of the École de joaillerie de Montréal (2004-2011). He also gives workshops in jewellery design and belongs to a number of national and international associations. His activities in the field have been the subject of numerous articles.