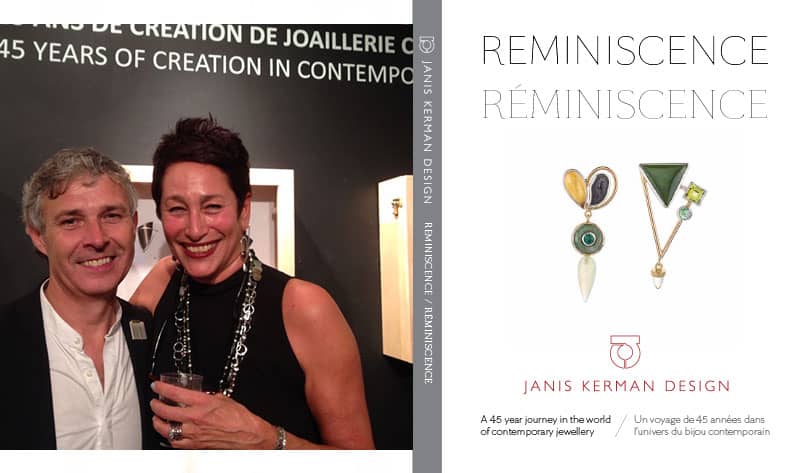 Reminiscence, Janis Kerman
JANIS KERMAN : REMINISCENCE: A 45 YEAR JOURNEY IN THE WORLD OF CONTEMPORARY JEWELLERY
An emblematic figure in creative jewellery in Canada, Janis Kerman has earned many accolades during her career which began in 1972 at the age of 15. A multitude of articles have made mention of her works for their aesthetic and technical qualities. Her jewellery has appeared in prominent International press and is included in numerous noted collections.
THE BOOK | Reminiscence – A 45 Year Journey in the World of Contemporary Jewellery
​In order to highlight this exceptional artist's 45 years of career, a book shall finally be dedicated to her. Divided into seven chapters, starting with her training and leading up until today, this book generously illustrates jewellery and sketches from the artist's different collections. Written by Noël Guyomarc'h, the book showcases her first silver creations, followed by her explorations with unusual materials, such as niobium or ColorCore, and finally displays her gold and silver jewellery with precious and semi-precious stones. Throughout this book, you will discover Janis Kerman's obsessions: those of the perfect line, of harmony and of aesthetic and visual balance, all rendered with a keen sense of design.
"45 years of examining and manipulating the simple geometry of the square, circle and triangle.  45 years of playing with and combining colors to create pairings both obvious and not.  These two interests have embodied my design aesthetic from the beginning of my jewellery career in 1972.  My challenge has been to continuously create new and exciting permutations of the same elements while pushing boundaries and pleasing both my ultimate client and myself.  Welcome to Reminiscence. "  –  Janis Kerman
JANIS KERMAN
Renowned Quebec contemporary jewellery artist, Janis Kerman mainly focuses on the relationship between colors and forms. She works exclusively with precious stones and metals, skilfully blending organic forms and natural lines, smooth and textured surfaces with unexpected colors to transform her creations into unique contemporary works. Throughout her oeuvres, one notices the emphasis placed on balance rather than on symmetry. It is indeed this quality that built her reputation in the jewellery milieu in the 1990s. Her first creations date back to summer camp in arts and crafts , while she was still a teenager. She undertook training at the Saidye Bronfman Centre in Montreal in the early 1970s, then at Boston University. She opened her studio in 1977. Subsequently, she honed her skills through workshops, seminars and became an apprentice alongside several renowned jewellery artists.
Since then, she has been teaching, sharing and giving lectures on her work in Canada and the United States. She is also represented by over twenty- six galleries throughout the world. Her pieces of jewellery can be found in prestigious public and private collections, including those of late Princess of Wales, Ms. Hillary Rodham Clinton, Mrs. Mila Mulroney, Mrs. Barbara Bush, as well as in the Montreal Museum of Fine Arts' collection of Decorative Arts. It goes without saying that she has won several awards and distinctions. Also, to highlight the work of emerging jewellers, each year the Janis Kerman Prize is awarded to a graduate of the École de joaillerie de Montréal. This year, she celebrates 45 years of creating contemporary jewellery.