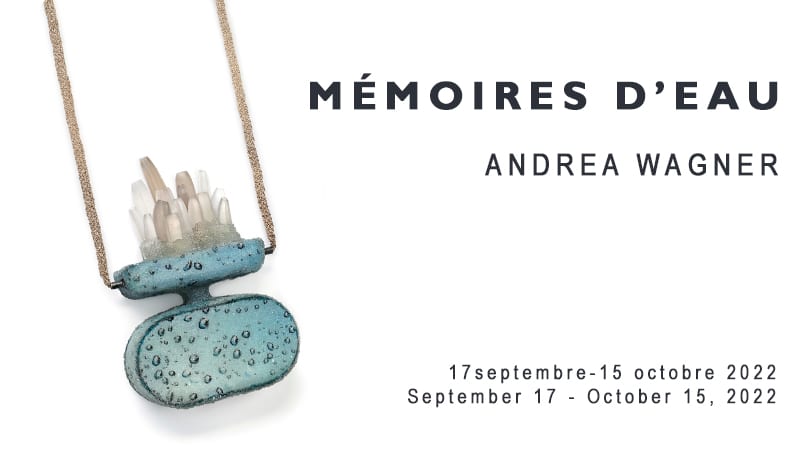 Mémoires d'Eau by Andrea Wagner
Montreal, September 9th, 2022 – From September 17 to October 15, artist Andrea Wagner will present her second solo exhibition Mémoires d'Eau at Galerie Noel Guyomarc'h. Andrea's series of brooches and pendants, some made of hand-cut quartz and others of cast resin, are inspired by water and its crucial significance as a source of life.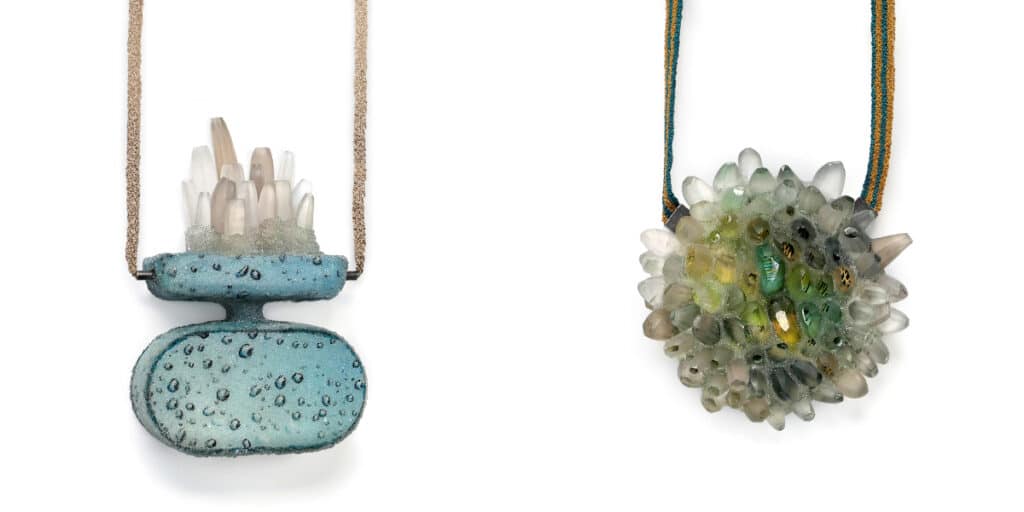 Represented with undulating lines since ancient Egypt, or with the alchemical symbol of the inverted triangle, water is an inspiration for writers, musicians and artists of all disciplines. A symbol of fertility and fecundity, at the heart of myths, it is believed to have healing virtues and multiple powers, while at the same time conveying a dark, mysterious and sometimes even dangerous aspect. As it changes form constantly, artists have multiplied the ways of expressing its plastic energy.
With this exhibition, Andrea Wagner proposes a reflection on water through a holistic approach. Not only is water everywhere, in nature as well as in our bodies, it is essential to all forms of life. It soothes us through its soft splashes and its sparkling waterways bring us peace and tranquillity. Andrea Wagner's works are composed of crystals which are either cut in quartz or cast in transparent resin, and through which one can glimpse the photographed or drawn patterns of ripples and reflections on the surface of the water. The faceted crystals evoke the shimmer of the sea while bearing a multitude of translucent granules that are reminiscent of fine droplets. Wagner looks at the eternal nature of water, which can change its state infinitely – from solid to liquid to gas. She thus poetically addresses the proposition that water, through these variations, retains the memory of its previous states. Pushing the idea of water's resonance even further, in a metaphorical way, she imagines its capacity to absorb light, sunrises and sunsets, winds and storms. With this collection of striking and imposing works, the artist conveys her poetic and honest perceptions of this substance.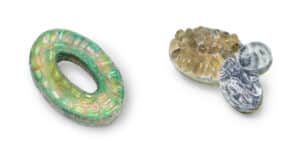 Andrea Wagner has been living and working in Amsterdam, in the Netherlands, since 1994. Originally from Freiburg, Germany, her parents emigrated to Canada where she grew up for twelve years on farmland south of Montreal. Upon her return to Germany, she pursued an economical office training, but her need for creative expression led her to take a jewellery making course at a local artist's studio. After several years of cultivating this passion, she decided to change her path for good and took a one-year internship in Berlin, a year at the Zeichenakademie in Hanau, and then completed her studies under the supervision of Ruudt Peters at the Gerrit Rietveld Academy, in Amsterdam, in 1997.
Andrea Wagner's work has been shown internationally in various exhibitions and private and public collections – at the Museum of Arts & Design in New York, the Museum of Fine Arts in Houston, the Museum of Fine Arts in Boston, the Montreal Museum of Fine Arts, the Schmuck Museum in Pforzheim, Germany, in the Françoise van den Bosch Collection, and the Textile Museum in Tilburg, Netherlands. A recipient of numerous grants, she also curated and organized the travelling exhibition GOLDEN CLOGS, DUTCH MOUNTAINS (2007-2008), and co-curated the exhibition WALKING THE GRAY AREA, presented in Mexico City in 2010. She is regularly invited as a guest lecturer at various schools and universities in Europe and North America.
An opening reception will be held at the gallery on Saturday, September 17, from 1 to 5pm. The exhibition will run until October 15, 2022.
To see all the new collection by Andrea Wagner: Mémoires d'Eau
For more information, please contact:
Noel Guyomarc'h : [email protected]
-30-