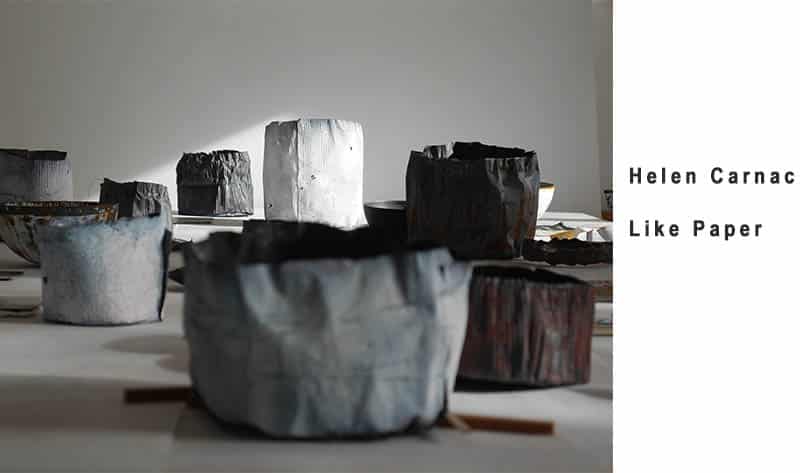 Helen Carnac – Like Paper
Montreal, October 29, 2022 – From November 5 to 26, the British artist Helen Carnac will present her first solo exhibition in North America entitled Like Paper at Galerie Noel Guyomarc'h. The opening reception will be on November 12 from 1 to 5 pm in presence of the artist.
Like Paper is a new installation of works by the artist Helen Carnac.
To have a closer look to the artist's work: Helen Carnac
Paper which is 'vulnerable and yet durable' has consistently featured in Helen's work since the early 1990s.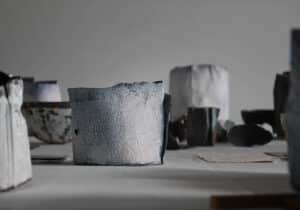 The works installed at Galerie Noel Guyomarc'h have been composed by the artist to reflect something at the core of her working process. Moving between materials Helen draws out and translates the qualities of one material into another. Metal surfaces become papery and fine, enamel surfaces are rich with drawn marks, as she develops themes and ideas through working back and forward between paper, fabric and metal.
During the recent pandemic Helen and her partner moved from London, where she had lived for over 30 years, to set up their home and studios on a seventeenth century farm in rural Somerset in the south west of England. Her daily journey to work has become a very different visual and tactile adventure and exploring the farm's outdoor spaces on her way to her studio is evident in Helen's new installation. Her new surroundings inform and contribute to the work literally and metaphorically in a new series of vessels titled Ammil, from an old local word that refers to the coating of glistening ice on grass, leaf, and stone on a freezing morning. They are drawn from her new surroundings, the papery qualities, visual and auditory, of elements in the landscape experienced while walking through the gardens and fields adjoining her workshop – a building clad in corrugated iron. The red earth of the iron rich soil found in this part of west Somerset and neighbouring Devon, processed in small batches into her own shop-made enamels, can be seen in various works in the installation. Whilst the mountains and headlands of Exmoor and the nearby coast are drawn into panels. These are shown here alongside her more recognisable vessels – pieces remade, that Helen has re-enamelled and drawn into for this installation.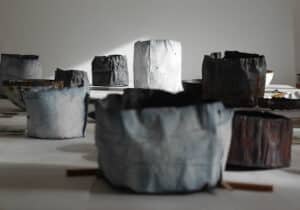 Although trained as a metalworker, paper has become more significant in Helen's practice during the last ten years. In particular, it came to the fore as she developed new working practices alongside the Québécois choreographer and dancer Laila Diallo. Through working together they found their shared material of choice was paper. Ripped, torn, folded, wrapped, corrugated, crinkled, screwed up, balled, unfolded, drawn, marked, written, printed on, burnt, charred, cut and rolled. Developing ways in which the qualities of one material, paper, could be used to describe the feeling of another material: heft, durability, or malleability, for Helen, metal, for Laila, the body. Helen continues to develop her thoughts and actions about how her manipulation of material is translated into works and to conveying the papery quality that she is fascinated by into materials that at first might seem more brittle, hard or glassy.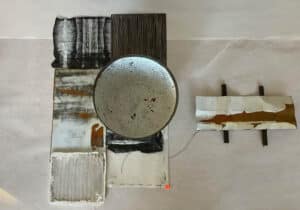 For this installation Helen has very deliberately placed each object in relationship to another. She spends considerable time in her studio moving and sifting her work, sometimes alongside found objects finding meaningful and insightful juxtapositions. The intention is of a conversation amongst a group pieces that simultaneously speak for themselves.
Helen Carnac is an artist, maker and curator who lives and works in Somerset, UK. Setting up her studio in the early 1990's, Helen develops projects using methodologies that are rooted in an acute awareness of physical location, place and working practices. Helen has worked extensively in the UK, Europe and USA.
Individual or collective exhibitions – Selection
Holding Space: Contemporary Enamel Vessels, Springfield Museum, Missouri, États-Unis (2023); Pliez, faites Hauser et Wirth, Somerset (2023); Helen Carnac, David Gates et Andrew McKenzie, Sarah Myerscough Gallery, Londres, Royaume-Uni (2023) ; Like Paper, Exposition personnelle, Galerie Noel Guyomarc'h, Montréal, Canada (2022); Within/Without, Make Hauser et Wirth, Zurich, Suisse (2022) ; Of Making and Material, Make Hauser and Wirth, Southampton, États-Unis (2022); Impertinente, Musée des Beaux-Arts de Limoges, France (2022) ; Dans Dialogue, Hauser et Wirth, Somerset, Royaume-Uni (2019) ; Blaze – International Contemporary Enamel Art Exhibition,Taiwan (2018); Meister der Moderne, Munich, Allemagne (2017) ; UK Pavilion at the 10th Cheongju Craft Biennale, Crafts Council and British Council (2017) ; Edge and Shore, Whitechapel Gallery, Londres, Dovecot, Édimbourg, Ar-nolfini, Bristol (2015 – 16) ; Drawing, Permanence and Place, (Kunstverein, Cobourg et tournée, 2012); Side by Side (Siobhan Davies Dance, Londres, Royaume-Uni, 2012); The Tool at Hand (Milwaukee Art Museum et tournée, 2011/12); Drawing, Permanence and Place, (Kunstverein, Cobourg et tournée, 2012)
Her work can be found in private and public collections, among them  Enamel Art Foundation, (États-Unis), Rotasa Foundation, (États-Unis), RAM (États-Unis) and the  Montreal Fine Arts Museum (Canada).
For additional information,
Noel Guyomarc'h – 514- 840-9362  / [email protected]