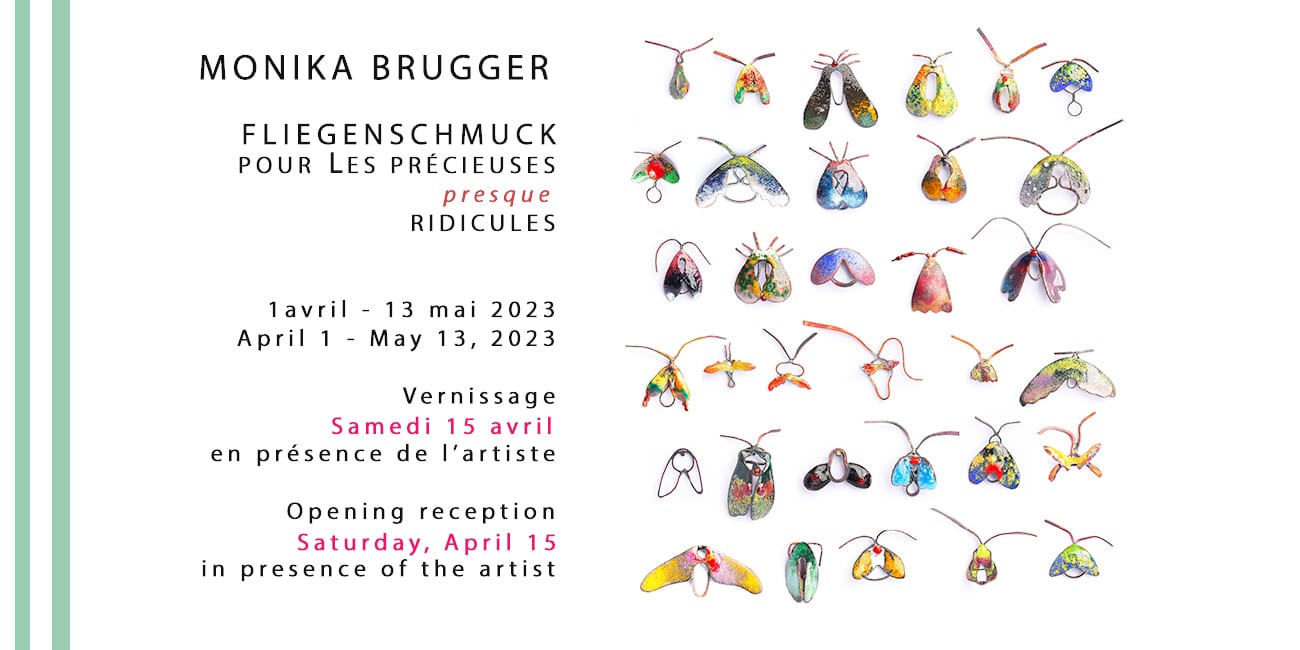 Fliegenschmuck, Pour les précieuses presque ridicules – Monika Brugger

Montréal, March 24, 2023 – From April 1st to May 13,  Monika Brugger will present her first solo exhibition Fliegenschmuck, Pour les précieuses presque ridicules, at Galerie Noel Guyomarc'h. The artist will be present at the opening which will be held on April 15 from 1 p.m. to 6 p.m.
German-born metalsmith Monika Brugger, who has been living in France since 1980, explores the intimate, technical interweaving of jewellery and the body, the meaning of materials, and the meaning of words. She sees jewellery as a 'small, precious object', and above all as a social object that defines us in relation to others. Entitled Fliegenschmuck, pour les précieuses presque ridicules, Monika Brugger's new body of work is an invitation to enter her own garden, swarming with flies. These insects are called mouches in French, and the word mouche thus takes on a double meaning -that of the insect, and that of a decorative beauty mark, a vanity that fascinates the artist by being at once seductive, annoying and repulsive.
The internationally acclaimed artist, who is renowned for her rather conceptual jewellery, seems at first glance to have strayed onto a new path, that of a jewellery gardener. Pearls of different colours strung in clusters, double or multiple rows, make up her animated, dreamlike necklaces, inviting us on a stroll in her flowery garden. But oh! Surprise! The moment one pays close attention, a multitude of flies and other insects bearing oversized antennae appear on the objects. In clusters, arranged in rows, what are these bugs doing? And what about these big, lonely flies that are simply asking to be worn? What a strange intention on Monika's part! Is playing with our emotions, senses and perceptions actually the artist's intention?
Displayed on an apple green wall, like a garden in springtime, these fly-infested necklaces take the shape of a pictorial composition of still lives.
"The "précieuses ridicules" (elegant women in 18th century France) wore "mouches" (carefully positioned beauty spots). These were not ugly creatures, but instead simple black cotton dots that were placed on the face not only as a type of adornment, but also as a form of signal and statement. Even today, fashionable women never go out without their 'vanities' and toiletry bags. They are loaded with superfluous essentials, making them admirably frivolous. This exhibition features flies (mouches…), mosquitoes, and other butterflies or dragonflies, all of which the artist uses as vanities. Sometimes repulsive, these ubiquitous creatures, which have long been depicted in paintings, speak about our vanities and our lives." – Monika Brugger
After studying metalsmithing in Pforzheim from 1976 to 1978, Monika Brugger completed her training at the Ateliers de Fontblanche in 1990 and obtained a Master's degree in Applied Art under the direction of Pierre Damien Huyghe in 2006, as well as an honorary diploma from Paris' EnsAD, in 2016. Monika Brugger now teaches in the jewellery department at ENSA Limoges. She has gained international recognition through her work, both as an artist and as an educator, as well as through her curatorial practice. Her work can be found in the Musée des Arts Décoratifs in Paris, the Schmuckmuseum in Pforzheim, the Montreal Museum of Fine Arts, the Berner Stiftung für Angewandte Kunst in Bern, the V&A Museum in London, and she is now part of the French State's Contemporary Art Fund with some important works from her illustrious career.
For complementary information, contact us by email [email protected]
-30 –