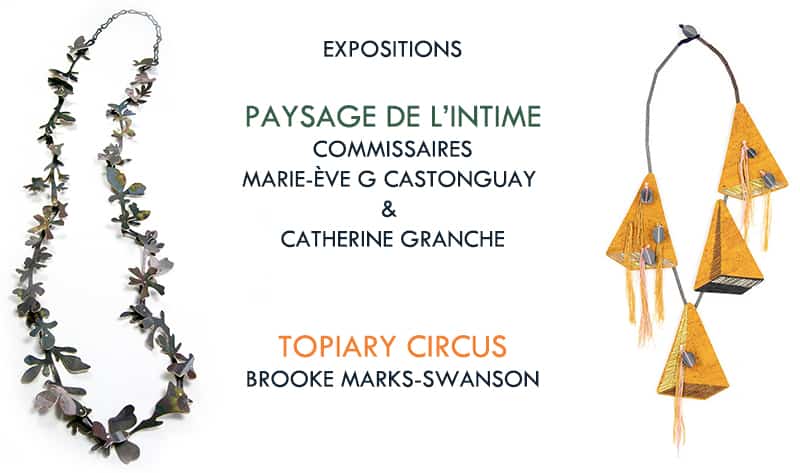 Paysage de l'intime + Topiary Circus
Montreal, October 18, 2020 – From the 6th to the 28th of November 2020, Galerie Noel Guyomarc'h will present two simultaneous exhibitions. On the one hand, Paysage de l'intime, an exhibition conceived by curators and artists Marie-Eve G. Castonguay and Catherine Granche, and on the other hand, Topiary Circus by American artist Brooke Marks-Swanson.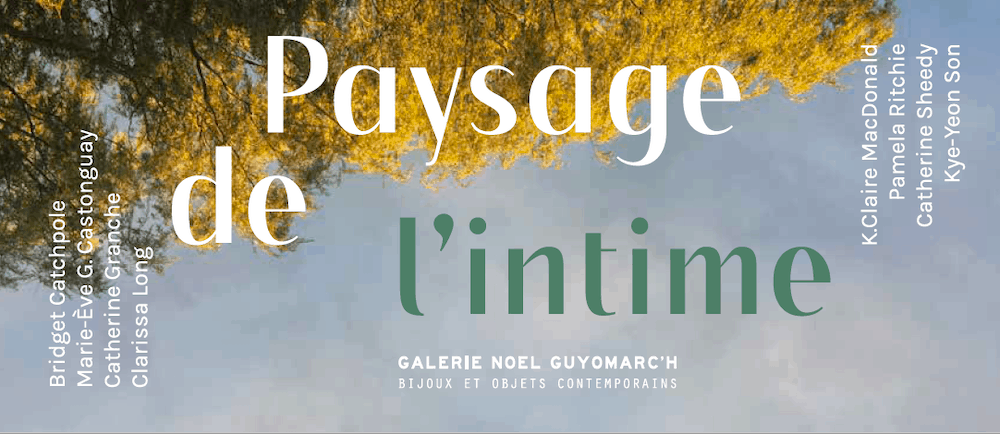 Paysage de l'intime brings together the work of eight artists from across Canada: Bridget Catchpole (BC), Marie-Eve G. Castonguay (QC), Catherine Granche (QC), Clarissa Long (BC), K. Claire MacDonald (NS), Pamela Ritchie (NS), Catherine Sheedy (QC) and Kye-Yeon Son (NS). This exhibition explores the relationship to landscape and nature, a recurring theme in visual arts and contemporary craft practices. A source of inspiration, our surrounding environment leads us to questions of provenance, environmental impacts and power relations between humans and nature. As a medium to be transformed, the landscape and its elements become raw materials used as a means of expression.
The landscape awakens a sense of belonging, cultural identity, and sometimes even nostalgia. Its influence can be addressed through a direct or dreamlike contact. Inspired by its modification or its alternation through human intervention, landscape as a subject allows for the interpretation of evocative and meaningful forms and materials, and for social and environmental questions. Nature and its landscapes are markers in time, like beacons that situate us in society and in the world, as well as in our own individual journey.
We depend on our environment just like it depends on us, from being shaped, manipulated and conditioned by our activities, our rituals and our fantasies. Like talismans looking to immortalize fragments of places, the pieces presented in the exhibition commemorate, poetically and enigmatically, the intimate story of various landscapes and various minds.
First presented during DesignTO at Toronto's Abbozzo Gallery, in January, then at Galerie Lewis in Quebec City, the exhibition will be in its third iteration.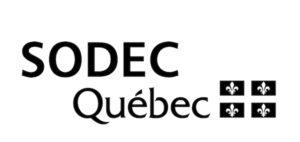 The gallery thanks the SODEC for its support to this event.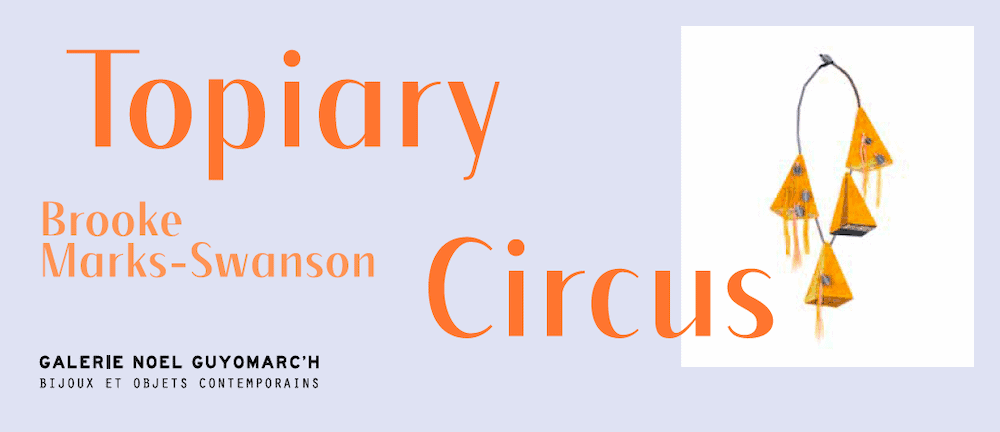 Brooke Marks-Swanson introduces her latest body of work, Topiary Circus. Always inspired by her immediate environment and daily life, Marks-Swanson translates her own observations or obsessions through an approach to jewellery that combines metalsmithing with textile construction. This new series is a response to the upheavals caused by the pandemic, a desire to translate anxiety and fear while seeking an escape through the ritual of creation. She draws her inspiration from topiary art, which involves patience, meticulousness, and a close interaction with nature's fluctuations, resulting in an eclectic combination of geometric shapes, not without recalling the chaos in which we are living at the moment. This series of colourful and flamboyant works cleverly combines rigour and frivolity and, by means of a visual reference to circus through shapes and colours, offers a brighter vision of the period we are going through.
To see the work by Brooke: Topiary Circus 
Brooke Marks-Swanson lives and works in South Bend, Indiana, in the Midwestern United States. She is a graduate of the University of Illinois (MFA 2003) and Indiana University (BFA 1999). Her work has been shown in over 100 juried and invitational exhibitions and has been included in various publications over the past decade. The Muzeum Walbrzychu (Poland), the Sparta Teapot Museum of Craft and Design (North Carolina) and the Museum of Contemporary Craft (Oregon) are among the museum institutions that include Mars-Swanson's work in their collections.
You are cordially invited to the openings reception
Friday, November 6 from 4 to 8 pm, and Saturday, November 7, from 1 to 5 pm. 
In order to respect the health measures of the government, we ask you to book your visit
by email [email protected] or by phone 514-840-9362
The exhibitions continue until November 28, 2020