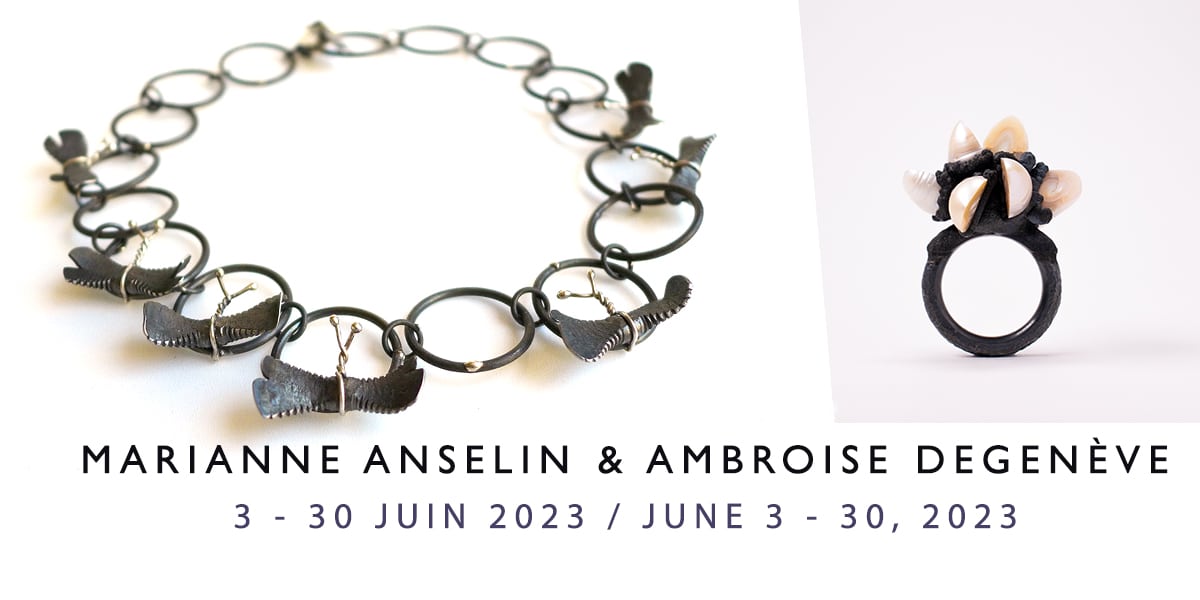 Marianne Anselin & Ambroise Degenève
Duo exhibition
June 3 – 30, 2023
Opening reception in presence of the artists: June 3, 1 pm to 6 pm
Montréal, May 20th, 2023 – This exhibition brings together French jewellery artists Marianne Anselin and Ambroise Degenève. Marianne forges and transforms industrial objects, while Ambroise uses the electroforming technique to 'grow' metal. Through their respective approaches, these two artists find ways to challenge the codes of jewellery in their own way.
When Marianne Anselin ventures outside her studio, rather than seeking to reconnect with nature, she is on the hunt for vacant lots, abandoned industrial sites and wastelands, in order to find the perfect iron or steel object that will stimulate her creativity. Weathered by the wind and rain, these rusty objects, ranging from cans to discarded nails, become her raw material. Back at the studio, they are gradually transformed into necklaces, rings or brooches. The initial object is forged, bent, drilled, curved, adorned with gold or silver, or set with stones. The object's history, already altered by its disuse, is not lost. It is renewed in the artist's hands and will be continued by the new owner. Forged nails become butterflies; keys become "studio" necklaces.
"My studio is a place of mutation, where preciousness is a perspective between nature and culture; a connection between place and the sublime moment where the object returns to providing a physical experience for the wearer". Marianne Anselin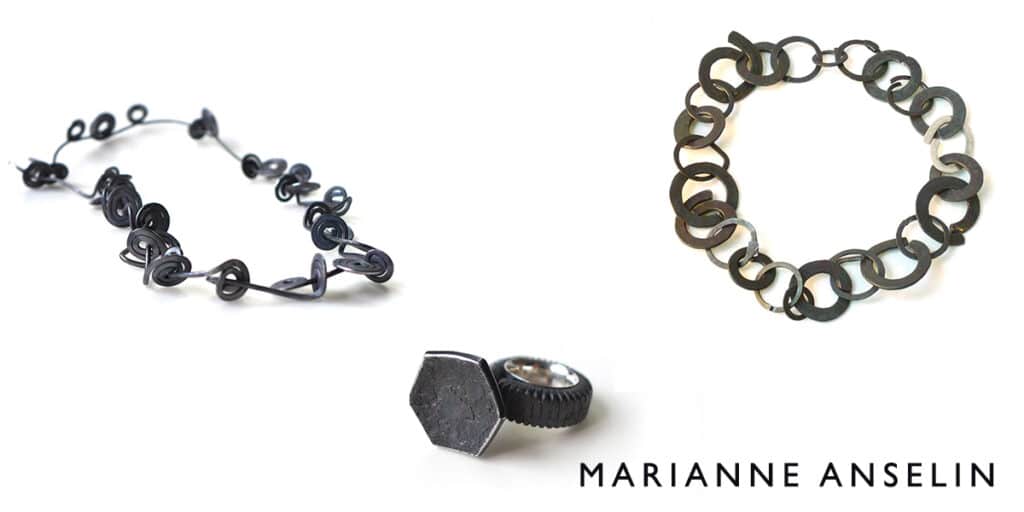 For several years, Ambroise Degenève has been conducting research centred on electroforming, a highly distinctive technique that allows to "grow" metal. This technique becomes the instigator of the resulting aesthetic. The artist initiates the process and lets the electroforming take over, thus subverting the discipline's great principles, such as gem-setting and the highlighting of preciousness and rarity.
This new body of work includes pearls, which he sees as a response to a defect, a result of chance and a defence mechanism. Indeed, when a foreign body is introduced into an oyster, the latter protects itself by encasing it in mother-of-pearl until it becomes an actual pearl, a parallel to the process used by the artist. Through the technique of electroforming, pearls are covered with thin layers of metal, until their delicate surface almost disappears under the dark and rough textures of metal. Ambroise's practice consists of constant experimentation, which he is always enthusiastic about. He offers a range of possibilities through a series of rings and earrings.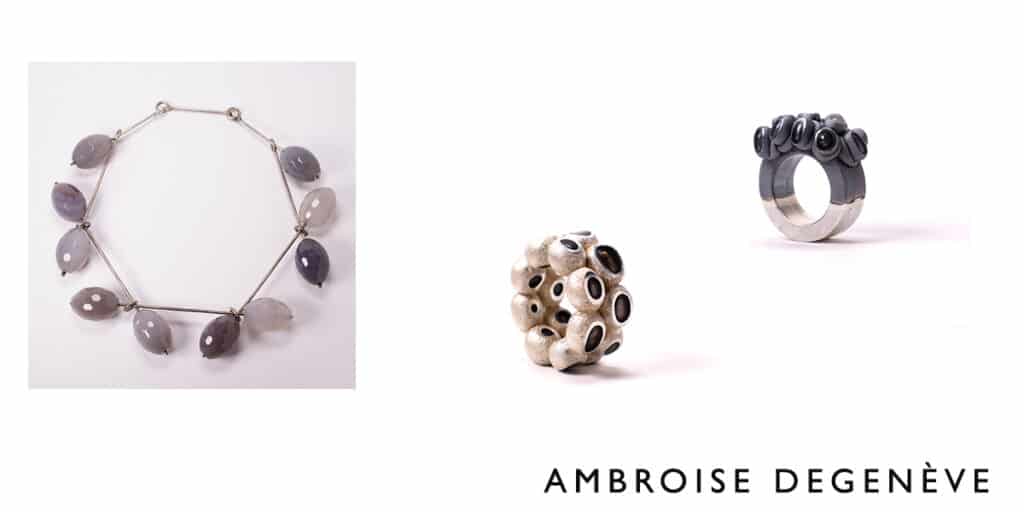 Marianne Anselin and Ambroise Degenève both seem to mock the codes of jewellery through their actions. Marianne values and magnifies raw found materials, while gold and silver become incidental. As for Ambroise, he intentionally hides pearls and stones within the confines of his pieces.
About the artists:
Born in 1980 in Lille, Marianne Anselin studied in France and Switzerland with many renowned contemporary jewellery artists such as Sophie Hanagarth, Esther Brinkmann and Gilles Jonemann.
Since 2005, her work has been exhibited in France, Switzerland, Germany, Belgium and Canada. Her first solo exhibition took place in 2009 at the Espace Solidor in Cagnes-sur-Mer. She was invited to participate in famous exhibitions in France such as "Dans la ligne de mire, scène du bijou contemporain en France" at the Musée des Arts Décoratifs in Paris, "Reflet(s)" at the Palais de Tokyo, and "Médusa, bijoux et tabous" at the Musée d'Art Moderne, in Paris.
Her pieces can be found in private and public collections, including the Musée des Arts Décoratifs in Paris, the Musée d'Art et d'Industrie "La Piscine"  in Roubaix and the Musée du bijou contemporain Espace Solidor in Cagnes-sur-Mer, as well as in numerous publications – The Compendium Finale of Contemporary Jewellers 2008 , Darling Publication ; Dans la ligne de mire, Scènes du bijou contemporain en France, Les arts décoratifs Publication; Bijoux contemporains, une passion, Du Regard Publication; " Ring redux ", the Susan Grant Lewin Collection, SCAD Museum of Art, USA.
Ambroise Degenève was born in France in 1987. He graduated from the Haute école d'art et de design de Genève, in Switzerland, and became an apprentice to Parisian goldsmith Jean Grisoni. During this time, he also opened his own studio. Since then, he has developed a unique body of work that has been presented in group and solo exhibitions in internationally renowned galleries in France, Switzerland, the Netherlands, the United States and Canada. Since 2022, he teaches at the SEPR, a vocational training institution in Lyon, France, as part of the national diploma in craft and design.
For more information :
Noel Guyomarc'h [email protected]
-30 –