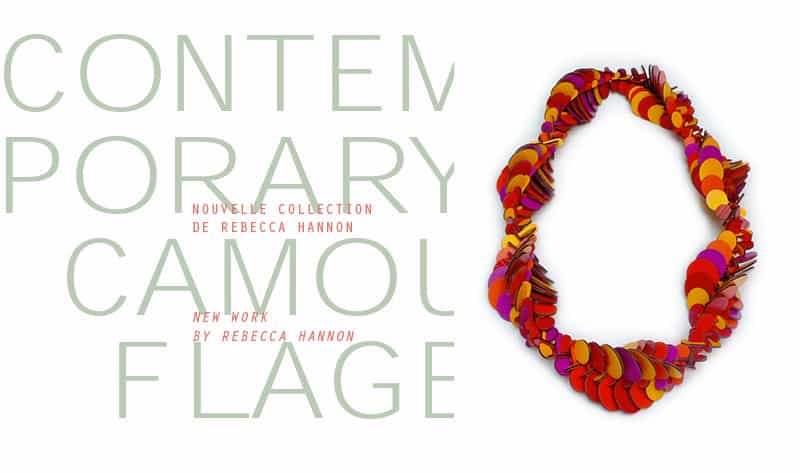 Rebecca Hannon – Contemporary Camouflage
Contemporary Camouflage /

by

Rebecca Hannon
September 2 – October 2, 2016
Contemporary Camouflage is Rebecca Hannon's latest project, one she has developed during two months residency at Studio Rian de Jong, in Amsterdam. Interested in the concepts of concealing and revealing, which stem from the notion of camouflage, the artist presents a series of brooches and necklaces, the result of a paradoxical exploration in the field of contemporary jewelry.
Camouflage means "to blend into", to conceal oneself in one's surroundings so as to protect oneself, to go unnoticed, or to become a predator in order to survive. Coloration is the principal form camouflage takes in nature. Adapted by the military in the 18th century, camouflage, in the form of prints of colors that blend with their surroundings, was widely used for protection and to mislead the enemy, as well as for reconnaissance.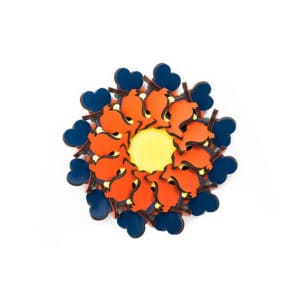 But the most impressive examples, by far, are the WWI warships with their disruptive camouflage, also known as dazzle camouflage. Attributed to Norman Wilkinson, the British marine artist, these paintings, with their complex motifs made up of irregular lines in contrasting colors, create optical illusions that were meant to confuse the enemy.
These warships come close to being works of art, due to the optical effects, falsely modified volumes and overall structure, depth and superimposition effects, and both the harmony and disruptive nature of the colors used. One is reminded of Constructivism, Futurism or Cubism. To conceal or reveal: such is the paradox of this subterfuge!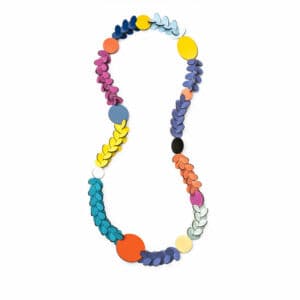 According to Rebecca Hannon, the act of wearing jewelry leads to this same idea. The person who wears a wedding ring or religious pendant or medal reveals only a very small part of herself. These objects are symbols of belonging, of status and identity; their references are obvious. However, in wearing contemporary jewelry, one displays or reveals oneself, with a form of communication inevitably occurring. The spectator questions the work, and the wearer's choice. In contemporary jewelry, camouflage is rare.
Rebecca Hannon's previous collections were a response to research she conducted in shape, size and color—the latter an indispensable ingredient—in relation to the body. She meticulously examines and studies each material she chooses to work with, in order to sharpen her awareness of the many possibilities it presents. In referring to abstract art, by laser-cutting symbolic minimalist shapes out of colored laminate, she arranges them ingeniously into simple, spare works of jewelry, the very essence of the source of inspiration. Any visible reference to the natural is eliminated.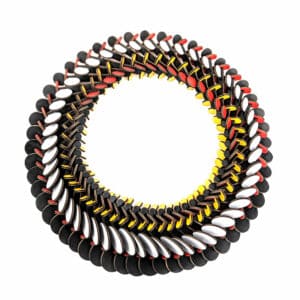 In the context of this new exploration, the selection of colors and complex arrangement of laser-cut elements baffle the viewer. At times one color predominates, yet the end result appears to suggest other possibilities, switching from primary to complementary colors. With this cognitive approach, Hannon awakens our senses and perceptions. She suggests one thing that, in the very same instant, becomes something else, comes to life, and takes form, surprising us. Visual perception is a system of identification, which, in the artist's latest offering, disorients, and is magnified and accentuated when the work is worn.
Contemporary Camouflage, the new project by Rebecca Hannon, will be on display at Galerie Noel Guyomarc'h from September 2 to October 2, 2016. The artist will give a lecture at the École de joaillerie de Montreal on Thursday, September 1st at 5pm.
The gallery will display the current collection at SOFA Chicago from November 3 to 6, 2016. Rebecca Hannon will give a lecture, date and hour to be confirmed.
About the artist:
Rebecca completed her undergraduate degree at Rhode Island School of Design in 1995 and went on to work as a professional goldsmith in New York City. After a thorough professional education she decided it was time to focus solely on her practice and applied to study under Otto Künzli at the Akademie der Bildenden Künste in Munich, Germany. She studied, taught and became a member of a professional jewelry collective in Munich from 2000- 2005 with support from a Fulbright grant. She now maintains her own workshop, participates in international exhibitions and teaches full time at the Nova Scotia College of Art & Design.
About the gallery:
Established in 1996, Galerie Noel Guyomarc'h exhibits outstanding collections of contemporary jewelry and objects created by Canadian and international artists. The only gallery in Canada dedicated specifically to contemporary jewelry, it has presented over 90 exhibitions in its space, which is considered to be one of the largest in the world. This internationally acclaimed gallery is a must for collectors, museum curators and anyone who wants to discover and become acquainted with art jewelry.
With its wide range of collections and exhibitions, the gallery encourages visitors to see jewelry in a new light. Much more than simple decorative objects, contemporary jewelry is created as a result of research and reflection relating to form and content as well as experimentation.