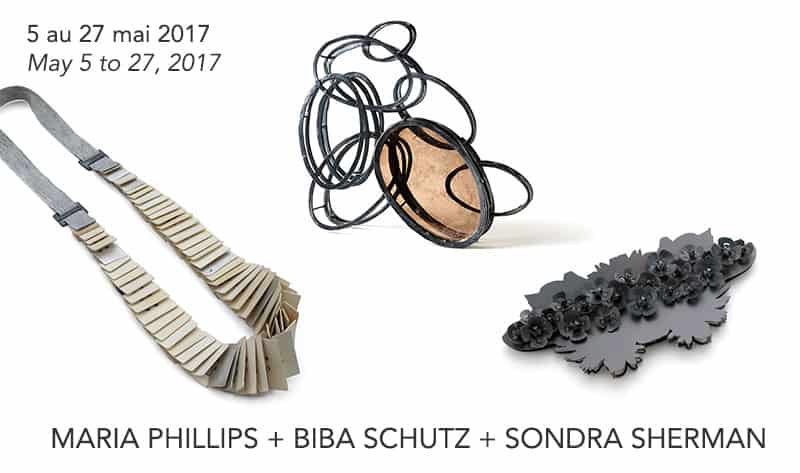 Biba Schutz, Maria Phillips, Sondra Sherman
BIBA SCHUTZ, MARIA PHILLIPS, SONDRA SHERMAN
         From May 5 to 27, 2017, Noel Guyomarc'h Gallery presents its newest exhibition : « Biba Schutz, Maria Phillips, Sondra Sherman ».
The exhibition engages the works of three major women artists from the United States in a dialogue that hopefully will provide a fertile and constructive insight into three different visions and creative processes. To Noel Guyomarc'h, bringing these artists together is interesting as all of them, through different techniques and imageries, search to convey a private and almost intimate feeling : a closeness to the body, a sensibility towards home, the expression of intimate states of mind.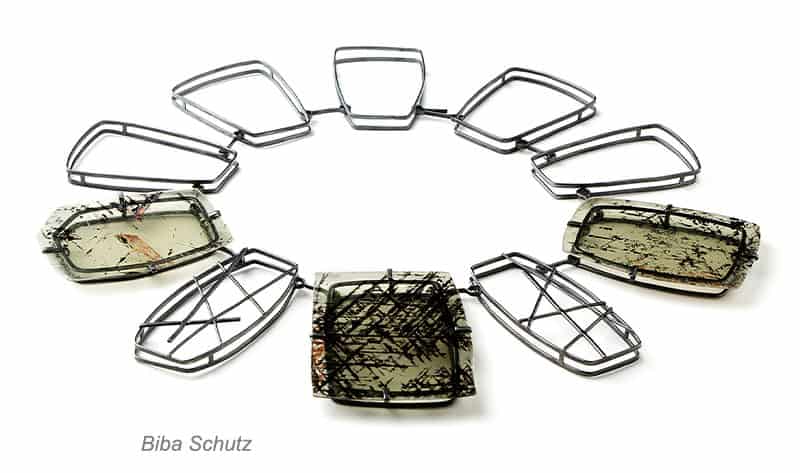 Trained as a graphic designer and printmaker, Biba Schutz has been a practicing, self-taught metalsmith and jeweller for more than 20 years. She is well known for combining unexpected materials with metal, and began incorporating glass into her jewelry designs in 2012. Living and working in New York City, she is attracted to the challenge of materials and processes to create work that investigates the body. Building a place of mystery, dimension, fluidity and intrigue, Schutz's pieces are objects that engage conversation and emotions. The are designed in close relationship to the body, both physically and emotionally.                                 Schutz has recently been playing with combining and integrating, using a mix of materials – mica, handmade papers, metals and raw materials – that together make the whole. A way for her to metaphorically tackle the issue of immigration, a current and burning topic in the United States and an issue she increasingly feels frustrated about.
Schutz's works can be found in the collections of the Racine Art Museum, Renwick Gallery of the Smithsonian American Art Museum, Washington D.C, Museum of Fine Arts-Boston, Corning Museum of Glass, Newark Museum of Art and Rotasa Foundation. She has received the Award of Excellence from the American Craft Council in 2008 and the Award of Excellence in Jewelry at the Smithsonian Craft Show in 2009. Her work has been exhibited nationally in solo and group shows.
Maria Phillips' creative process takes domestic spaces as its point of departure and constant focus. Systematically looking for patterns in random encounters or habitual rhythms within homes and intimal places, she strives to capture these ordinary moments through jewellery, sculpture, drawing and photography. Phillips' pieces are not about precious stones nor precious materials. They are about looking differently, shifting perceptions of the overlooked and expendable material of daily existence.
In her latest works, Phillips has been combining plywood, crafting, popsicles sticks and various metals, using "home" as both a source and a material. Her pieces explore elements of architecture, its language but also aims at reflecting on what the preciousness of a home means. As residential building keeps flourishing in Seattle, her town of residence, the parallel rise of the homeless population uneases and troubles her, a thought she is trying to convey in her current jewellery.
Born in St. Louis, MO, Maria holds degrees from Loyola University, New Orleans and University of WA, Seattle. In addition to her studio practice, Maria lectures widely, serves as a guest critic and teaches workshops at various programs throughout the country. Her work can be found in the collections of the Museum of Art and Design New York, the Renwick Gallery of the Smithsonian American Art Museum, Tacoma Art Museum, Rotasa Foundation and numerous private collections. She recently was awarded the John and Joyce Price Award of Excellence for Mapping Monotony, her work in the Bellevue Arts Museum Biennial.
Initially a painter, Sondra Sherman became drawn to jewelry when she recognized adornments as a medium for empathically reaching out to the social and personal self of individuals. To her, jewelry holds this wonderful power to both have personal meaning and instigate social exchange. She will be presenting pieces from three of her latest series : "Anthophobia : Fear of Flowers" (2007), "FTD" (2009), and "Rorschach Corsages" (since 2013).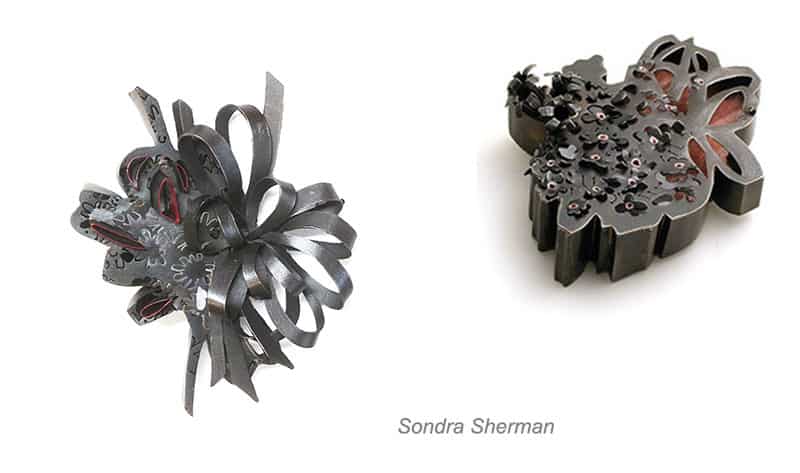 Her brooches, whose silhouettes evoke traditional elaborated corsages, include shapes and forms from botanical psychopharmica, that is to say botanicals used for treating social anxiety and depression such as opium (poppy), belladonna and nicotine. By combining the two, she aims at expressing psychological states in social relations, at questioning the increasing need for medicinal treatments and the social conditions which created so much anxiety. Her preoccupation for psychopharmica also came from her familial background, her mother being a therapist and her father a pharmacist. "FTD", a common acronym for Florist's Transworld Delivery, is also the acronym for "Formal Thought Disorder", a term used in psychiatry to describe a pattern of disordered language. "Rorschach Corsages" evolved from the two previous series : the brooches are now bi-laterally symmetrical forms, the front surface presenting the public persona while the elaborate back sides are inspired by the emotional states we do not proclaim in public.
Associate Professor of Art and Head of the Jewelry and Metalwork Program in the San Diego School of Art + Design, Sondra Sherman has been an invited speaker and a panel participant at numerous fairs and professional events. Her work is included in the collections of the Los Angeles County Museum of Art, CA, the Philadelphia Museum of Art, the Boston Museum of Fine Arts, the Metropolitan Museum of Art, NY, The Museum of Art and Design, NY, The Racine Art Museum, WI, the Renwick Gallery of the Smithsonian American Art Museum, DC, and Rhodes Island School of Design Museum.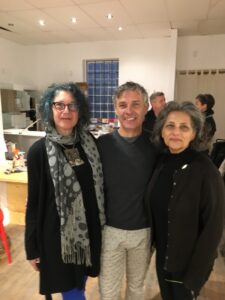 "Biba Schutz, Maria Phillips, Sondra Sherman" will be on view at Galerie Noel Guyomarc'h from May 5 to May 27, 2017
The opening reception will take place on May 5 from 5 p.m.