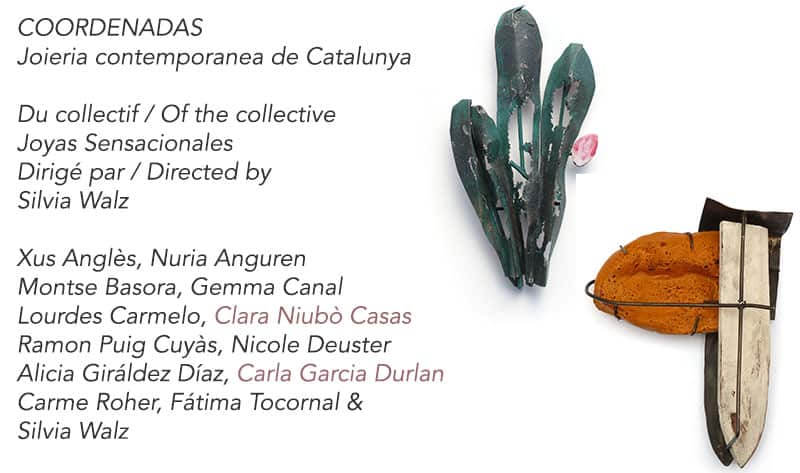 Joyas Sensacionales
COORDENADAS, du collectif Joyas Sensacionales
 Bijoux Contemporains de Catalogne
It has been years now that we carefully keep an eye on our friends and colleagues' work abroad, especially when their goal is to encourage emerging contemporary jewellers to exchange and learn from each other. It is with that concern in mind that we enthusiastically welcomed the idea of an exchange of exhibitions between Montréal and Barcelona and to receive a collective of young Spanish jewellers to exhibit their latest pieces in Canada.
"Coordenadas : Jewels from Catalonia" will be presented at Galerie Noel Guyomarc'h from June 9 to July 9, 2017, as the result of this exchange.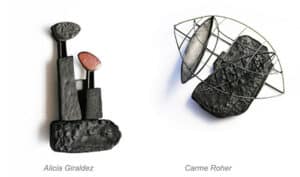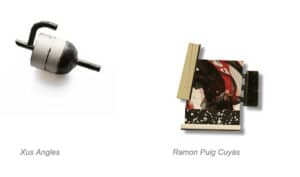 Everything started in 2008, when Silvia Walz, an internationally recognized artist and jewellery teacher at the prestigious Escola Massana in Barcelona, decided to set a work group with some of her former students. The idea was to encourage them to work together on new themes and to help them through collective projects in an environment conducive to healthy emulation and surpassing oneself. By exchanging and helping each other, the students could reach new objectives and overcome the doubts and obstacles they all come to face when alone at their studio's bench. One of Silvia's former students, Alicia Giráldez, provided the premises to welcome those meetings, el Taller Perill.
The group took the name of « Joyas Sensacionales », in reference to one of their first lines of research. They are nowadays active in numerous projects and exhibitions. The latest, Siete Coordenadas, has been presented in Munich in March 2017.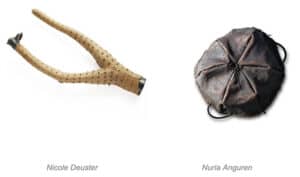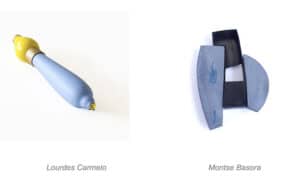 Of German descent, Silvia Walz studied at the Fachochschule of Hildesheim and at the Escola Massana in Barcelona. She settled in Catalonia in 1988. She is nowadays one of the main representatives of contemporary Spanish jewellery and participated in numerous exhibitions in Europe, the United States and Canada. She has been a teacher at the Escola Massana for several years alongside her companion, Ramon Puig Cuyàs, another giant of contemporary Spanish jewellery.
The « Joyas Sensacionales » group is nowadays composed of 12 artists : Alicia Giráldez, Carla Garcia, Carme Roher, Clara Niubó, Fátima Tocornal, Gemma Canal, Lourdes Carmelo, Montse Basora, Nicole Deuster, Nuria Anguren and Xus Anglès, accompanied by Silvia Walz and Ramon Puig Cuyàs.
With Coordenadas, the collective concentrated on the idea of a double reading. Each and everyone of them picked a place they particularly liked or that was truly inspiring to them and provided to another member of the group the GPS coordinates of the place. The latter was free to visit it, to work with a photograph or to reflect on the emotions felt in situ. They could be places from infancy or childhood, an abandoned site, a museum… Then, the two jewellers – the one who provided the coordinates and the one who received them – would work and produce an unique piece. One coordinate therefore inspired two pieces of jewellery, both reflective of two different points of view and two personal "readings" of the same place.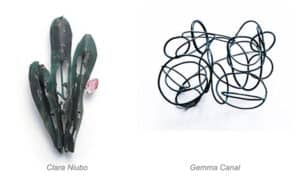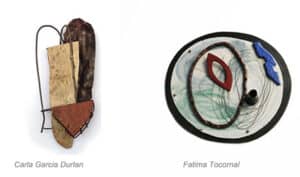 The experience was then repeated with three definite set of coordinates. Three groups of four worked separately on each of them : N 41o 16,31' 69'' E 2o 3,50' 31'', a beach near Barcelona ; N 41o10'37.45" E 1o 13' 26. 82" , an oil refinery ; N 41° 22' 8. 04' E 2° 10' 20. 39" the cactuses garden Costa i Llovera in Barcelona. Three titles : Remor, Poligón negre, D'un verd àrid ; Three main colours : blue, black, green. And multiples yet different pieces.
To Noel Guyomarc'h, the jewels born from this experience bear the traces of the collaborative emulation within the group but show also the both narrative and poetical aesthetics that is at the base of their researches. An aesthetics anchored in life, in reality, but on which the very own "soul" and personal emotions of every jeweller is overprinted.