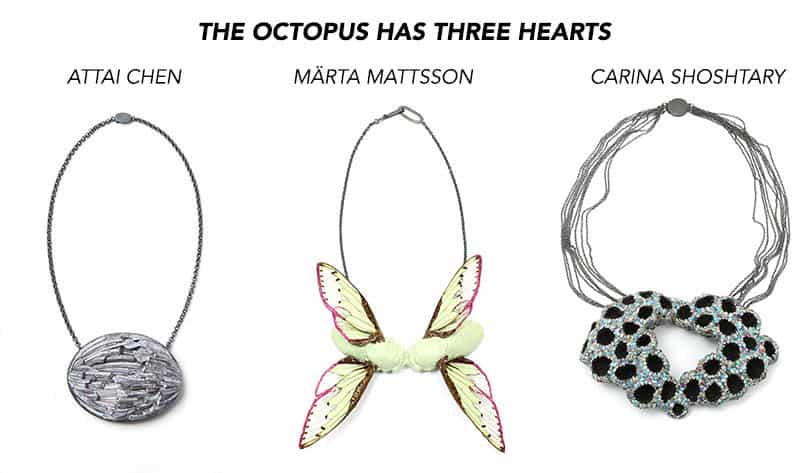 The Octopus Has Three Hearts
« THE OCTOPUS HAS THREE HEARTS »
ATTAI CHEN, MÄRTA MATTSSON, CARINA SHOSHTARY
It is on September 14, with an opening night starting at 5 pm, that Galerie Noel Guyomarc'h  will unveil its newest exhibition : The Octopus Has Three Hearts. The exhibition continues until October 15.
Gathered under this mysterious title, Attai Chen (Israël), Märta Mattsson (Sweden) and Carina Shoshtary (Germany), the three of them among the most renowned artists in contemporary jewellery, will showcase pieces from their most recent production. The exhibition will be divided into two parts : on one side,  researches on earrings by the trio; On the other, a collection of unique pieces born from their experiences on shape and matter.
It is following a swap of earrings that Carina Shoshtary and Märta Mattsson exchanged about their respective creative approaches. Carina noted Märta's continuing tension between attraction and repulsion while Märta stressed Carina's use of opposite materials. There is also a major difference in their processes, as the former uses organic materials (cicada's wings, resin, crushed stones) to give them a synthetic appearance, whereas the latter takes materials that are already altered (graffiti fragments, glass) to produce an organic form. Attai Chen is joining this feminine duo by presenting a series of exclusive earrings of his own.
Born in Stockholm, Sweden, Märta Mattsson first studied jewellery in Gothenburg at HDK School of Design and Crafts. She perfected her technique by completing courses at London Royal College of Art, Tokyo Hiko Mizuno College of Jewelry and Rhode Island School of Design, Providence, USA. Since 2006, her work has been shown in several international galleries and displayed in about a dozen public museums collections, including Stockholm National Museum, New York Museum of Art and Design and Houston Museum of Fine Arts. In 2012, she was chosen to exhibit at Schmuck, Munich major contemporary art fair. The pieces she is presenting today are all from her newest series, called Wings. 
Using materials that may at first seem unfit for jewellery, Märta's work explores the threshold between disgust and attraction. Strongly inspired by 18th century cabinets of wonders, which often displayed a patchwork of newly discovered species, she tries to make us see beauty in what may first seem repulsive. Conserving the original shape of the wings and bodies of her dead cicadas, she captures them in resin to protect and enhance their beauty with delicate and precise dabs of pigments. By preserving however the natural signs of time's passing, she allows the « lives » and history of those beings to keep further on.
Carina Shoshtary was born in Germany and received her training in goldsmithing in Neugablonz. She studied contemporary jewellery at Munich Academy of Fine Arts with Otto Künzli. In addition to being part of important collections such as Munich International Design Museum or London Victoria & Albert Museum, her work has been presented internationally in numerous museums and galleries. In 2012, she received the Bavarian State Prize for Emerging Designers and the Upper Bavarian Prize for Applied Arts.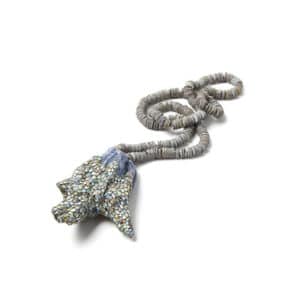 Using materials from her immediate surroundings and with a previous life, Carina Shoshtary considers herself a « hunter-gatherer ». In Karma Chroma, her newest artistic proposal, she uses fragments of graffiti, recovering the successive layers of posters on public panels that, with time, come off and fall to the ground. Maintaining a fusional relationship with colour, she keeps it at the core of her creative researches, adding sometimes found organic materials to her creations.
Israeli artist Attai Chen follows the same process by compiling and researching matter before beginning any creation. He uses raw materials such as casts-off, carved wood, paper, paint and graphite. His two most recent series, Compounding Fractions and Matter of Perspective, will both be displayed at Galerie Noel Guyomarc'h  for the exhibition.
In the first series, Compounding Fractions, Attai Chen relies on fragmented recycled paper, documenting the gestation, growth and decay of those fragments and revealing their inherent beauty. The latter, Matter of Perspective, aims at denouncing how each individual views reality through the lens of its own specific culture and references. With his exceptionally beautiful pieces, he encourages us to see raw materials as if for the first time, without any preconception.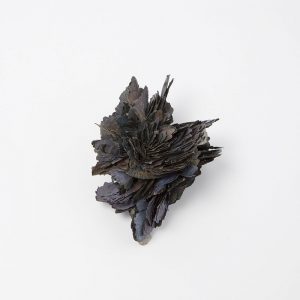 A graduate of Bezalel Academy of Art and Design in Jerusalem, Attai Chen also holds a degree from the Munich Academy of Fine Arts. In 2010, his work was rewarded with the Herbert Hoffmann Award at Schmuck and in 2011 with the Oberbayerischer Prize for Applied Art. In 2014, he was granted the Andy Prize for Contemporary Art and was offered a solo exhibition at the Tel Aviv Art Museum. His works can be seen in the collections of the New York Metropolitan Museum of Art, the Munich Neue Sammlung, Tel Aviv Museum of Art, Jerusalem Israeli Museum of Art and Rotasa Trust Collection in California. He recently participated in an artist's residency at the Konstepidemin Center in Sweden with his wife Carina.
The Octopus Has Three Hearts offers a unique opportunity to acquire the works of those three exceptional artists and to appreciate their exceptional talent and creativity
The exhibition will be held at Galerie Noel Guyomarc'h from September
14 to October 15, 2017.
EnregistrerEnregistrer
EnregistrerEnregistrerEnregistrerEnregistrer
EnregistrerEnregistrer