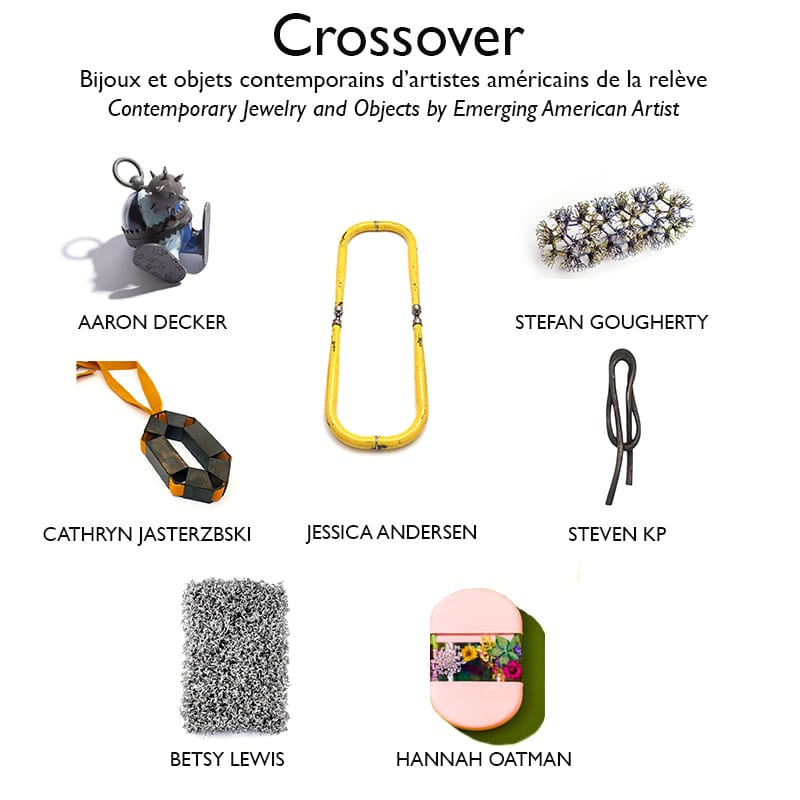 CROSSOVER – Contemporary Jewelry and Objects by American Emerging Artists
Montreal, September 30, 2021 – From October 7 to November 13, gallerist Noel Guyomarc'h will bring together in his exhibition space seven American artists representing the next generation of contemporary jewellery. Entitled Crossover: Contemporary Jewelry by American Emerging Artists, the exhibition will feature the work of Jessica Andersen, Aaron Decker, Stefan Gougherty, Cathryn Jasterzbski, Steven KP, Betsy Lewis and Hannah Oatman, all of whom responded to a personal invitation from the gallerist himself.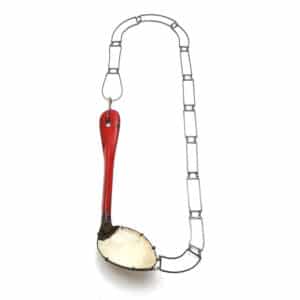 After completing her undergraduate studies at the University of Iowa in 2009, Jessica Andersen received her MFA in Jewellery and Silversmithing from San Diego State University in 2014, and this is where she has based her practice until now. She is interested in the connections we make with the objects around us, both those we keep and those we discard. With the body of work I Found You, Andersen takes on a multitude of found objects, some of which come with their own stories, and others with the potential to inspire new ones. She stages the abandoned objects of everyday life and invites the viewer to discover new ways of interacting with each object, beyond existing cultural signifiers, in order to propose new meanings, functions, and symbolic values.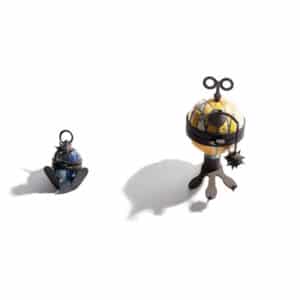 Aaron Decker is a graduate of the Maine College of Art (BFA 2012) and the Cranbrook Academy of Arts (MFA 2015). Upon graduation, his work was awarded the Mercedes Benz Emerging Artist Award and the Marzee Graduate Prize, and his work is widely exhibited in the United States and internationally. Decker uses enamel freely in order to render a rather irreverent iconography. His latest collection, inspired by mechanical toys and children's drawings, is the result of both a collection of furtive memories and the artist's mixed fascination and fear of clowns. The resulting pieces combine both dark and reassuring memories and take us into a landscape to explore, that of childhood.
Before turning to jewellery, Stefan Gougherty began his career as an industrial designer. It was only later that he turned to metalwork and ornament, completing a Master's degree at SUNY New Patlz in 2020. Through the use of a dark-humoured approach, Gougherty explores the many facets of the digital age in which we live: the distortion of time and space, information overload, and the increasingly blurred line between reality and fiction. Drawing on his previous knowledge, he uses industrial manufacturing techniques to depict various everyday objects. He transposes them into dreamlike and supernatural worlds, confusing the viewer with scenes that look virtual, yet are composed of very tangible objects.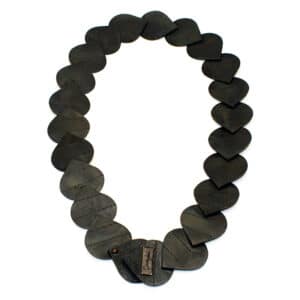 Cathryn Jasterzbski first completed her undergraduate studies at SUNY New Paltz before graduating from the Rhode Island School of Design in 2019 with a Master's degree in Jewelry and Silversmithing. Additionally, she has worked with master jeweler David Walton, to whom she owes much of her training. Basing her work on the notion of identity, Jasterzbski explores her own roots, being from a working-class environment. Not only does she examine the notion of class, but also the roles associated with gender identity, employing and questioning the ways in which certain processes or materials are traditionally associated with men or women.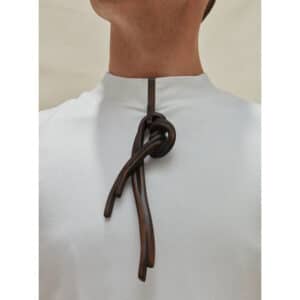 Steven KP graduated from the University of Wisconsin (BFA 2017) and the Rhode Island School of Design (MFA 2020). He is currently a visiting lecturer at the Massachusetts College of Arts and Design in Boston. Introduced to woodworking by his grandfather at an early age, this technique has become the object of his family heritage. His brooches, which look like soft knots unfolding on the wearer's torso, reflect the character of the piece of wood from which they are made: a mass within which knots, scars and sinuous shapes are already present, long before the artist's intervention. The knots thus revealed by KP's hands are light and rigid, in contrast with their dark and flowing aspect.
A graduate of the Maine College of Art (BFA 2016) and SUNY New Paltz (MFA 2020), Betsy Lewis not only pursues a successful career as an artist, but also as an educator and instigator of multiple artistic projects. She has taught at the Rhode Island School of Design and Brooklyn Metal Works, as well as at her two alma maters, and is co-curator of the exhibitions Dream Machine, presented annually at NYC Jewelry Week since 2018. Her work evokes grief, hope, and memory, and she investigates how we associate certain objects with particular memories or meanings. Employing forging and forming techniques, Lewis creates masses of silver formed with components reminiscent of knots, bones, or winding patterns that intertwine to create a whole.
Hannah Oatman discovered jewellery by chance, in an extracurricular course, while studying art education. This revelation was such that she decided to change directions and continue her studies at SUNY New Paltz, and then pursue a Master's degree at the Rhode Island School of Design, from which she graduated in 2020. Going so far as to register her own name as a trademark, Hannah Oatman™, she offers a reflection on consumer society and the behaviors of the collector. With a critical eye, she exacerbates the commercial aspect of art by reappropriating the marketing techniques specific to mass consumer products.
An opening reception will be held at the gallery on October 7, from 5 to 8 pm in presence of few of the artists. The exhibition will run until 13 November.
For complementary information:
Noel Guyomarc'h : [email protected]