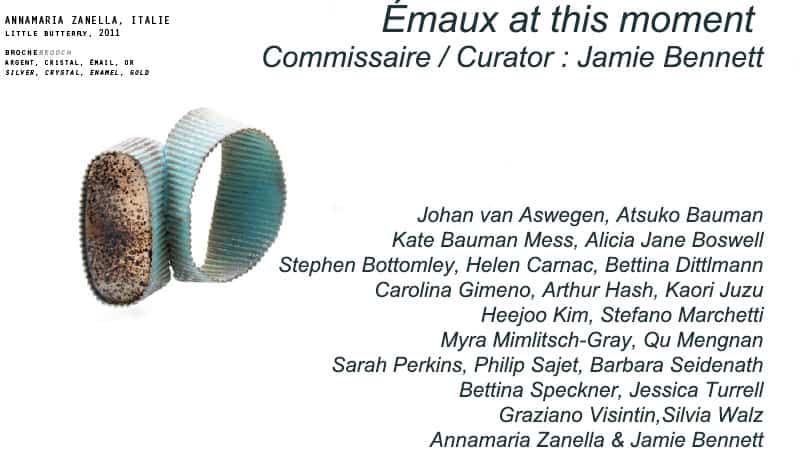 Émaux at this moment
Émaux at this moment
INTERNATIONAL EXHIBITION OF CONTEMPORARY ENAMEL JEWELRY AND OBJECTS
Curated by Jamie Bennett
From October 17 to November 16, 2014, Galerie Noel Guyomarc'h is please to display contemporary enamel work by 23 international artists. Curated by Jamie Bennett, renowned American jewelry artist, this exhibition offers an overview of the current use of enamel in contemporary jewelry and objects.
Participating artists:
Johan van Aswegen | Atsuko Bauman | Kate Bauman Mess | Alicia Jane Boswell | Stephen Bottomley | Helen Carnac | Bettina Dittlmann | Carolina Gimeno |Arthur Hash | Kaori Juzu | Heejoo Kim | Stefano Marchetti | Myra Mimlitsch-Gray | Qu Mengnan | Sarah Perkins | Philip Sajet | Barbara Seidenath | Bettina Speckner | Jessica Turrell | Graziano Visintin | Silvia Walz |
Annamaria Zanella & Jamie Bennett
«This exhibition was conceived to point at a particular phenomenon that is occurring in contemporary jewelry internationally. Enamel as color, surface and image has been reinvigorated and to some degree reinvented as a significant material used by jewelers and metalsmiths internationally. While jewelry has certainly been the primary benefactor and represents the larger part of this exhibition, there has also been a great shift in its use on vessels and tile work.
For most of the twentieth century enamel was defined and executed in very specific processes, such as cloisonné, champlevé and Limoges, all very traditional and refined. Modernism did have its influence on more gestural enamel work in the mid fifties and early sixties but even that became formulaic and predictable.
The advent of experimentation with a wide range of materials used by jewelers from the late 20th century to where we are today brought a new curiosity and interest in enamel as a material and not a specific process related to it. The qualities of enamel that drew interest were the inherent characteristics of a vitreous powder that needed a substrate of metal, onto which it melted, flowed and hardened. These became the defining properties jewelers and metalsmiths were interested in without the boundaries of particular processes. The use of enamel by jewelers in this exhibition can be quite raw and in other cases well rendered, but each piece demonstrates a willingness and determination to see what this material can do well.
Contemporary jewelry has for some decades witnessed a shift toward a more democratic use of materials, where plastic stands beside gold, and coal replaces diamonds. Traditional materials were traded in or juxtaposed with materials that possessed a more abstracted value. While the seed of this shift was in part socio/ political and an attempt to rid contemporary jewelry of its status as a symbol of luxury, the qualities of the "new" materials themselves began to manifest their own presence in the work.
All materials have inherent meaning, but they also have a visual presence that can be used to reinforce what we think jewelry can be and should be. Enamel as a material and a practice has and will continue to hold qualities that contribute to the field of jewelry and metalwork. It is very exciting to see work from all corners of the world where one material has gained a new momentum and its appearance has been adjusted to fulfill our needs from jewelry and metalwork today. To borrow a phrase from painting, enamel is not dead, it has many ways of occuring and that is clearly apparent in the jewelry and metalwork in EMAUX AT THIS MOMENT.»
Jamie Bennett
Exhibition curator