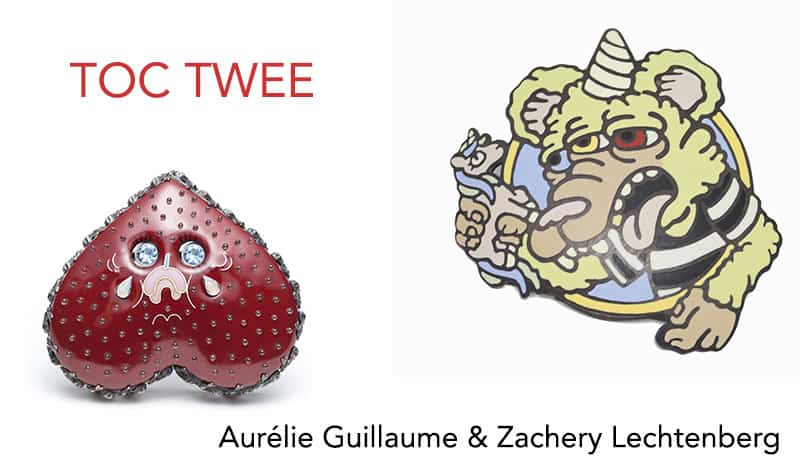 TOC TWEE, exhibition Aurélie Guillaume & Zachery Lechtenberg
TOC TWEE
AURÉLIE GUILLAUME & ZACHERY LECHTENBERG
From March 16 to April 15, 2018, it is with great excitement that Galerie Noel Guyomarc'h brings together two young contemporary enamelists of the daring contemporary jewelry avant-garde, French-Canadian Aurélie Guillaume and American Zachery Lechtenberg.
The title of the exhibition plays with TOC, a French word which, associated to jewellery, means fake, cheap or junk, and TWEE, something that is sweet, almost to the point of being sickening so. As a matter of fact, Guillaume and Lechtenberg took the idea of kitsch as a starting point for their  researches, and will present in the exhibition their respective reflection and personal interpretation of the theme.
An accomplished illustrator, 29 year old, Zach Lechtenberg covers his jewelry with a personal lexicon influenced by contemporary cartoon imagery, particularly the work of Matt Groening, best known for the comic strip Life in Hell and animated series, The Simpsons. Goofy but lovable, Lechtenberg's characters bear strong symbolical values : the Rat represents a being obsessed with its passions ; The ONI/Demon the balance between positive and negative energy.
Having considered to become a children books illustrator, Aurélie Guillaume, born in 1990, found herself fascinated with the glossy surface of cloisonné enamel works. Influenced by cartoonists such as French-Canadian Simon Bossé, French Gilles Roussel and Loic Secheresse, she went on creating her own personal universe, characters and dreamlike atmospheres, bringing to life a cartoon-like humorous world in which she injects her personal experiences and imagination. Her pieces can take up to 15-20 different layers of enamel, each fired at 1500°C.
Both Guillaume and Lechtenberg share the same vivid interest in pop and street art, comics, icons and counterculture, as well as the same agenda: imbuing traditional enamel work with fresh iconography.
This challenging and incredibly time-consuming technique, whose history calls for a long tradition, consists in applying pigmented enamel powder within previously-made compartments. In Guillaume's case, those latter are built with silver wire (cloisonné technique). Lechtenberg prefers champleve, carving directly into his material before applying the paste. The pieces are then left to dry before being fired, sometimes several times, in a kiln, before polishing. A single mistake, and days of work could be lost.
As the main topic of the exhibition, Kitsch is at the core of Guillaume and Lechtenberg's latest researches. Traditionally related to cheap mass industrial production, associated with « too much » or « bad taste », kitsch colliding with enamel jewelry art paves the way for multiple questionings.
For Zach, the idea came from a comment from another jeweller who asked him how he felt about his work being considered kitsch. Inventorying what he knew or felt was kitsch and collecting odds and ends for future works, he took the insult to make it a challenge and a meaningful creative purpose.
TOC TWEE will be on display at the gallery from March 16 to April 15, 2018.
About the artists:
Aurélie Guillaume
After completing her diploma at École de joaillerie de Montréal, Aurélie Guillaume went on to pursue a BFA at NSCAD University, Halifax, where she majored in jewellery design and metalsmithing. Upon graduating, her work was selected as the winner of L.A. Pai Gallery's 12th National student jewellery competition in Canada and shortlisted for the BKV Prize in Germany. She recently became a finalist for the 2018 Art Jewelry Forum Artist Award. Exhibiting solo or collectively, Guillaume attracted the attention of major institutions (The Enamel Arts Foundation, Los Angeles ; The Museum of Art and Design, New York ; The University of Iowa Museum of Art ; Seoul Pureun Culture Foundation, South Korea) who purchased her work for their permanent collections.
Zachery Lechtenberg
Born and raised in the Midwest, Zachery Lechtenberg received a BFA from Southern Illinois University in Edwardsville, Illinois and MFA from East Carolina University in Greenville, North Carolina, where he studied with jewellery master Robert Ebendorf. His personal lexicon, which runs on multiple three-dimensional objects, is strongly inspired by street art, popular icons and comics works. His pieces are signed "Yotburd", a compound of the verb "yot" (to unite closely, to rivet) and "burd" (for Buried Underground Residential Distribution). He recently exhibited at the Metal Museum of Memphis, Tennessee. His work can be found in several major personal collections.
About the gallery:
Established in 1996, Galerie Noel Guyomarc'h exhibits outstanding collections of contemporary jewellery and objects created by Canadian and international artists. The only gallery in Canada dedicated specifically to contemporary jewellery, it has presented over 100 exhibitions in its space, which is considered to be one of the largest in the world, and organized traveling exhibitions in Canada, United States, Europe and Asia. This internationally acclaimed gallery is a must for collectors, museum curators and anyone who wants to discover and become acquainted with art jewellery.With its wide range of collections and exhibitions, the gallery encourages visitors to see jewellery in a new light. Much more than simple decorative objects, contemporary jewellery is created as a result of research and reflection relating to form and content as well as experimentation.